Sunday was the first time I attended the Cranleigh Classic Car Show. The event has been running for a few years and has quickly grown from a few cars parked in a field to a show sprawling across several fields. Each event is held in order to raise money for the Cranleigh & District Lions Club, although if you're bringing along a car to show then entry is free (all the more reason to stick a few coins in a collection bucket as you leave!)
Cars from the BalloonFish-and-family fleet were converging on Cranleigh from several directions. I bounced my way up the A3 in the 2CV whilst my Dad had stayed overnight in Surrey having driven up the previous afternoon in his Standard Flying Twelve drophead. The weather over the previous week had been 'variable' to say the least and there was some doubt as to whether or not the showground would be suitable to have a few hundred cars trundling about on it. None the less Sunday dawned clear, dry, warm and increasingly humid. The 2CV was in full Summer Mode with the roof rolled back, the bulkhead vent cranked open and the passenger-side heater tube removed because that side's heater control flap doesn't close properly.
Cranleigh is one of those places where there is no really easy way to reach it- it lies several miles equidistant from all the major A-roads of the region and has no direct route to it from anywhere else. Coupled to my rather hazy mental map of rural Surrey and I ended up making several circuitous passes around the town like a light aircraft approaching an unfamiliar airfield in fog. In the end I stumbled across an Austin Ten and hung on his tail until the show signs started appearing. The signposted route into the showground went right through Cranleigh high street and across several mini roundabouts so by 10am there was a long queue of classic cars gradually shunting their way towards the show. The hot weather also made it a self-perpetuating traffic jam as every now and then a car would bump to the side of the road with steam curling out of the bonnet, thus creating another obstacle. None the less it was a good form of (slowly) moving motor show and the wide variety of cars was already obvious. In front of the 2CV were a Triumph Dolomite and a 2500PI, a Rover P3, a pre-war American car of some sort, a Vauxhall Firenza, a Chrysler Imperial and a Singer Chamois.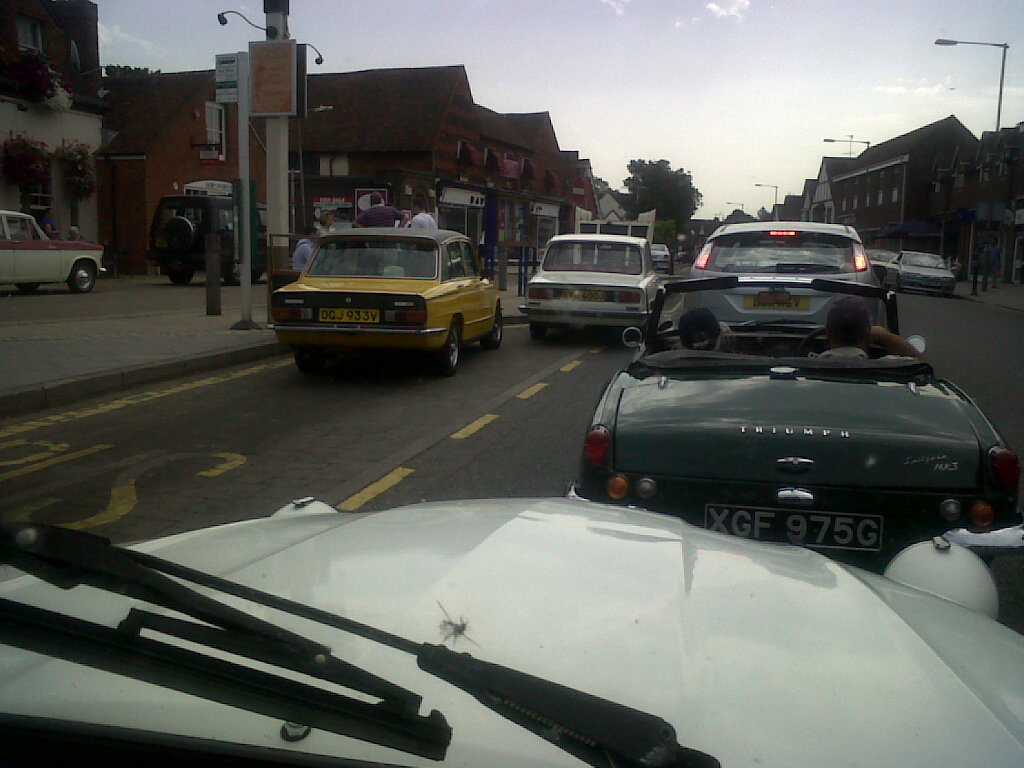 As it happened I was ushered into a parking space a row across from another 2CV Dolly, albeit a 'Blueberry and Custard' coloured one. It also had only half the miles on it that mine had, and was in virtually showroom-fresh condition. Also in the vicinity was a Humber Hawk, a 12-reg Ford Mustang in bright yellow, a gaggle of Minis, an early Porsche 911 an, of all things, a Talbot Alpine Rapier-edition.
After making contact with Dad in the Flying Twelve we set up 'base camp' in the form of a Halfords gazebo and many folding chairs. The 2CV, of course, carries its own picnic chairs. In fact it carries a complete 3-piece suite if required and they're much more comfortable than any of the folding Gore-Tex ones.
By now the humidity and the temperature were climbing fast so it was time to do a quick 'sweep' of the show with the camera. There's no real organisation other than a few designated club stands but equally the cars are free to move about during the day so eventually they seemed to coallesce into basic groups. There really was the full gamut of cars on show, starting with a handful of 'gilded age' Vintage cars, through a healthy crop of pre-war cars (including no less than two other Flying Standards, something of a record for a non-Standard event!) and then huge numbers of the inevitable BMC/BL, Rootes Group, Ford and Vauxhall products. There was a strong contingent of American cars as well. Whilst US-built classics aren't my 'thing' and I struggle to tell the difference between a LeBaron and a DeSoto the sheer size and 'difference' of the American stuff makes a pleasant change from the usual suspects, as well as making me ponder how anyone can afford to run such a car. Speaking of the 'usual suspects' MGs were noteable by their absence. There were a scattering of As and Bs but nowhere near as much as you would expect given the size of the event.
By mid-day the atmosphere had got downright oppressive and then a hole appeared in the sky. Literally- it looked like a tornado that had gone upwards into the cloud rather than downward. It was heading our way as well. Ten minutes later there were a few rumbled of thunder and then a deluge of strangely hot rain began. This resulted in five hundred nearly perfectly synchronised hood-closings, followed by dozens of chamois leathers and microfibre cloths being deployed as soon as it had stopped. The brief storm didn't do much to clear the air and as the sun beat down turning every metal surface into a hot-plate there was a collective decision that the best thing to do was to remain under the gazebo, eat a lot of cheese and drink a lot of fluids. Lunch was spiced up by the sight (and, much more importantly, the sounds) of the sole airworthy Avro Vulcan doing touch-and-goes over the road at Dunsfold Airfield.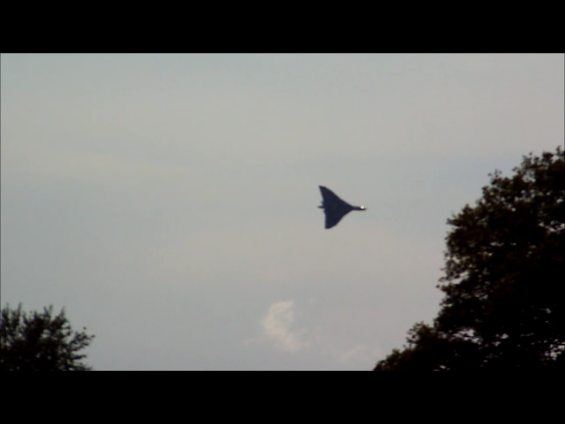 By 3-o-clock the temperature had finally began to drop and I made a final sortie with the camera around the club stands. I was, inevitably. particularly interested in the Panhard club's array of Dyna-Zs (the only car that uses a Guppy fish as a styling cue) and the combined Rootes clubs had an impressive selection of Tigers, Alpines and all the Imp variants. There was even a small selection of stationary engines, chugging and popping away as they endlessly pumped the same two gallons of water into and out of a bucket.
The trip back was much quicker and smoother than the trip up, including a blessed few seconds of relief from the heat in the Hindhead Tunnel, which I can recommend in an open-topped car on a hot day as it's like being in a gigantic fridge.
So, the Cranleigh Classic Car Show. Something for everyone but shade and a supply of cheese are a must.
My full set pictures from the day are here.