For all my talk about liking cars usually considered rubbish my own personal transport is rather underwhelmingly good.
I suppose it could be argued that my cars are versions of good cars that aren't thought all that highly of by their respective enthusiasts.
1) 1990 Land Rover Ninety County Station Wagon Diesel Turbo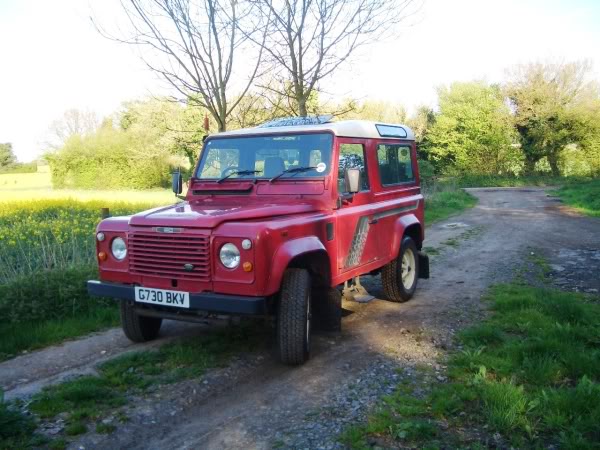 Blessed with one of the longest full model names in automotive history, I bought the Ninety in 2006 to replace an increasingly scabby and unreliable Series III Land Rover, which was my first car. It's a full 'County' spec Station Wagon, which means it has six seats, full carpets and untold luxuries like a clock, a cigarette lighter, a voltmeter and the ashtray from an Austin Allegro. The exterior is resplendent in greyscale go-faster stripes and colour-coded front grille. Power, such as it is, is provided by a 2.5-litre turbodiesel that is unanimously considered to be the worst engine ever put in a Land Rover, which is saying something.
The Ninety has been a big improvement reliability-wise on the Landy it replaced. The engine was fully rebuilt in 2007 and has since done 30,000 trouble free miles (the car itself now has 165,000 on the clock). It's also had a few welding jobs done on the chassis and completely overhauled brakes. It was my daily driver until late 2010, when it became largely unused due to a long, drawn out affair where I took over a year to replace the front swivel pins, a job that can be done in a weekend by someone with the correct motivation. It's all back together now and road legal, but sadly underused.
Current Status: Off the road but functional. Awaiting funds from selling the 2CV to fix niggles.
Current Niggles: Fuel tank leaks if filled more than halfway, fuel tank support bracket is rusted out.
2) 1988 Citroen 2CV6 Special 'Dolly'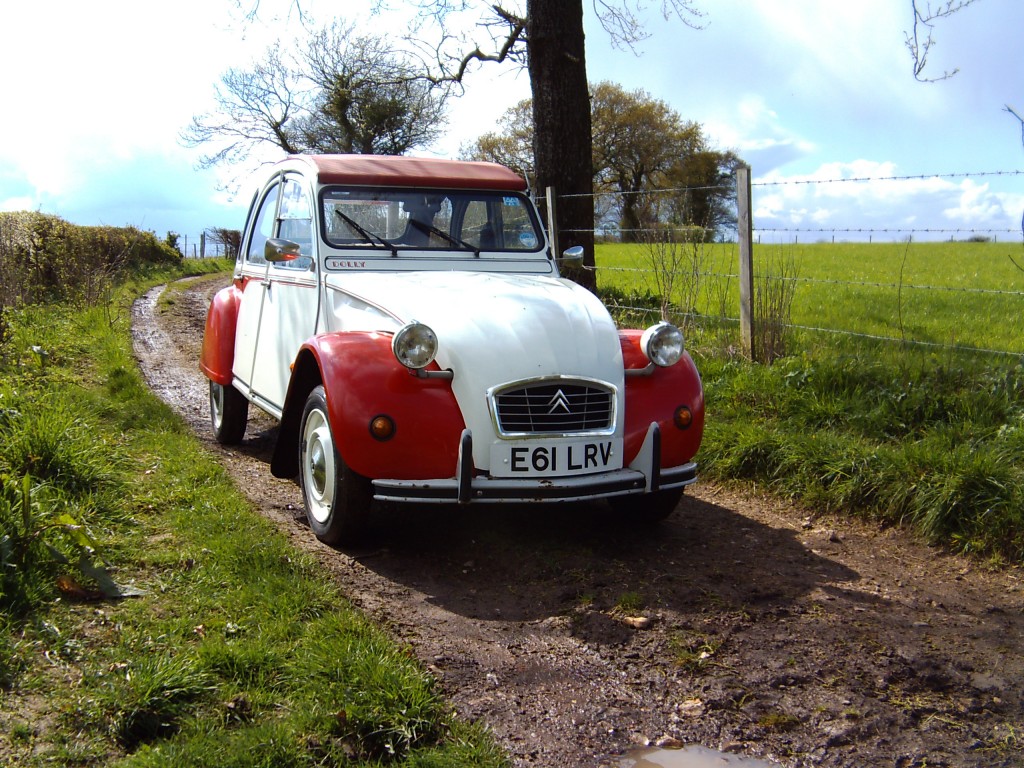 Rising fuel costs put paid to the idea of driving a turbocharged Land Rover on a daily basis so in October 2010 I went looking for something more economical. Most normal people would have gone and bought a Polo TDI but instead I decided that the real solution was to buy a car from the 1940s with a lawnmower engine. This particular slice of Gallic eccentricity is one of the very last French-built 2CVs and it's a 'Dolly' edition, which basically means it's a base-spec model with two-tone paint, worse seats and silly extras like a passenger's sunvisor. I am the first owner of this 2CV to actually use it regularly (when I bought it it only had 48,000 miles on it) and it has responded well to being used as Citroen intended. For all it's quirks, and there are lot of those, it's an incredibly comfortable 4-seat hatchback that does 45 MPG regardless of how you drive it and it's immense fun to drive.
The 2CV has had long-term clutch issues (I replaced a worn clutch to find that the flywheel had warped, meaning that it now judders like a bastard, to use the technical term) which have been waiting for the Land Rover to get roadworthy so I can pull the Citroen apart and fix them. See above for why this hasn't happened yet. Apart from that it has been remarkably dependable.
Current Status:After nearly £600 of welding and a lot of washing the 2CV is fully functional and road legal. Just needs selling, after I fix whatever niggles I deem worthy of fixing.
Current Niggles: Flywheel needs sorting. Excessive judder has knackered the engine mountings. Rain is getting into the boot from somewhere.
3) 1987 Metro 1.3L 5-door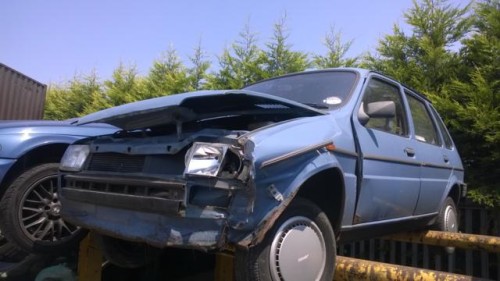 In November 2012 I finally decided to put my money where my mouth was when it came to the joys of British Leyland cars and splashed out under £600 for this faded blue beauty.
It's covered less than 27,000 miles since new and feels like it, with an virtually unmarked and unworn interior and the whole car feels very tight and 'together'. It's already started to sucumb to the classic Metro vice of rust, but only in the valences and one of the wheelarches. After having the Hydragas pumped up it rode and handled even better.
The Metro proved to be fun to drive, immensely practical and uses less fuel than the Citroen. A steering rack bush exploded (literally), leaving it with an ominious clonking noise and a worrying shimmy in the steering, which was sorted by a new steering rack. The summer of 2013 proved to much for the knackered radiator and it took over five months (!) to source another one of the correct type. That done, the Metro returned to being its usual self, doubling up as a track car in an amazingly-good-fun day trip to Brands Hatch and a moving van when Balloon_Fish HQ shifted location.
Then, in June 2014 someone (doubtless attracted by the car's immense stardom from featuring on a poxy car blog) knicked the Metro, razzed it around the East Midlands for a weekend before stuffing it into a ditch and writing it off. And so my excursion into the world of British Leyland cars came to an unexpected, ubrupt and regrettable end.
Current Status: STOLEN.
Current Niggles: It's been crashed into a ditch. during a 'high speed' police chase around Northants.