BMW E24 6-Series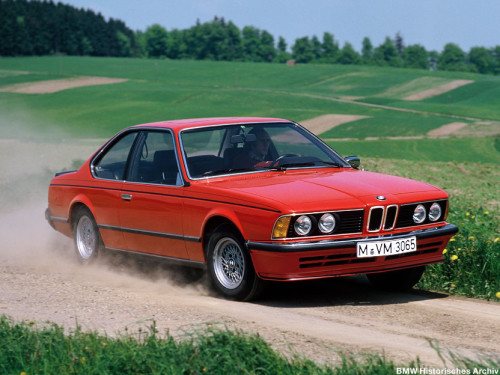 A throwback to the days when BMW was a respected but still slightly niche builder of thoroughly decent and respectable cars but without the awful veneer of pretentious Ultimate Driving Machine bollocks that pervades the brand these days. Back in the good old days a BMW was a svelte car with styling lines like the creases on an Italian suit (in fact Munich's styling was little changed from the days when Michelotti doodled some Beemers when he was bored of doing Triumphs) and they combined the dynamic thrills of an Alfa Romeo and the comfort of a Rover with that annoyingly Germanic trait of building cars that were simple 'right'.
The best example of all the cars from BMW's glory days is the E28 5-Series, but why go for that when it's also available in gorgeous coupe form as the later versions of the E24 6-Series? It would have to one that's post-1982 (so it's based on the E28 rather than the rather unremarkable E12) but pre-1987 (when a facelift spoilt its classical lines). Other than that (!) I'm not fussy- a 3430cc 635CSi would be nice but all of them are shark-nose Beemers with six-cylinder engines and rear wheel drive so there's little to choose.
Daimler SP250 'Dart'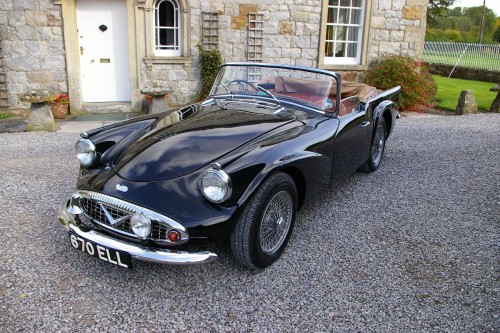 I've pondered on the remarkable cultural draw of the V8 engine and how it can make almost any car desirable. The SP250 (known as the Dart to everyone who isn't a complete anal retentive) is a perfect embodiment of that. As a car it is pretty woeful- its styling would be considered 'a bit too awkward' by the people who did the Peugeot 308 and while Chevrolet was making its sports cars look like killer sharks the folk at Daimler were using the humble guppy as a reference. It has a plastic body on a separate chassis which has all the integrity of a UKIP MEP and, famously, the early versions were so flaccid that the doors popped open during heavy cornering.
I don't desire the Dart because of its status as a massive, ruinous failure, though. It's because of its superb Turner-designed 2.5-litre V8 engine. It's a miniature hemi mill which sounds like an entire squadron of Harley Davidsons going full chat at once when it's speaking through a decent exhaust and is also sublimely smooth and a willing revver. I've experienced the Daimler V8 under the bonnet of a 250 saloon and really do think that experiencing it in a small, open topped roadster would be something worth paying for. Even if I can only go in straight lines- but then there are some advantages to living in East Anglia!
Subaru Impreza GF8 Sport Wagon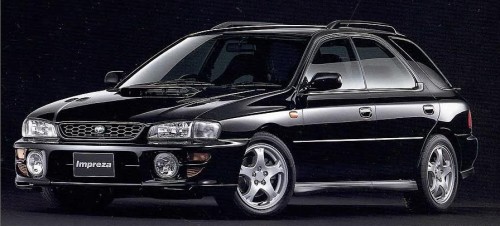 Those who know me will understand when I say that the Impreza is, on the face of it, the least 'me' car ever. And they'd sort of be right. Also, as much as I hate to admit it, this choice was more than slightly inspired by the last Top Gear special, where it was driven, annoyingly, by Richard Hammond. I mean that sentence in both senses- it's annoying that Richard Hammond has made me want a car and he drove said car in an annoying way.
In my defence, I have always had a glimmer of…'respect' may not be the right word, more like 'appreciation' for Subarus. They are a company that take their own path and they (used to) value solidly-engineered underpinnings over flouncy styling and marketing. A case that comes crashing down when considered the Impreza because it's pretty much all about the styling and the marketing. Except that underneath is a technically very impressive and capable car, which too many owners ruin in the strange belief that they know better than Subaru's R&D department.
Why the Wagon version? The only thing better than a boring saloon turned into a fearsome rally weapon is a boring estate car turned into a fearsome rally weapon.
Datsun Cherry F-11 Coupe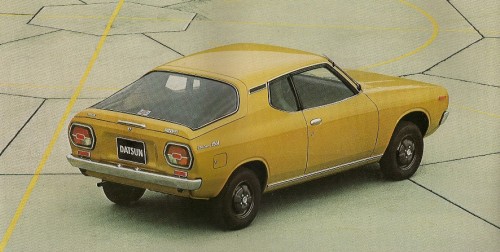 Old Japanese cars are one of those things I have always admired from afar and know very little about. Maybe that's why I like them. Partly it's the styling. Before they gained a reputation for making cars that looked boring the likes of Datsun, Toyota and Mazda had a reputation for cars that looked downright bizarre.
In the case of the Cherry F-11 it's a sort of mish-mash of three different cars. There are hints of 240Z at the back, traces of Austin Allegro in the middle and a bit of Dodge Dart (the rubbish 'Seventies one, not the good ones) at the front. It's the only car I know that uses the hexagon as the basis for its styling cues. It's available in some very 'period' (read 'naff') colours and it comes with wheel trims that seem to be perfectly scaled up versions of those solid plastic lumps that Matchbox cars used to have.
Of course the problem with being so specific in terms of make/model is finding one to actually buy. Much safer just to go for 'old 'Seventies Japanese car', because there are literally some of those left in the UK.
Smart Roadster 3-cyl

Stop laughing. Seriously, stop laughing. OK, laugh a bit. Now stop. I know the Smart Roadster immediately ruins any credibility anyone might have, even if that stock is already pretty low because said person spends an evening a week writing about crappy cars on a blog with a nonsensical title.
For reasons I can't quite pin down the Smart Car (now the 'fortwo') holds little interest for me, but I'm very keen the ill-fated Roadster version. I think this is because it's that very rare thing in the modern car world, a genuinely lightweight car that majors on handling rather than performance and relies on sensations rather than numbers to make itself enjoyable. It is, quite consciously, a successor to the Spridget and Spitfire roadsters of the past, and is the only real attempt to update the ideas behind those cars. Plus it has a tiny, manic engine and a recalcitrant paddle-shift gearbox. What could go wrong with that?