The Land Rover Defender is 29 years old. It was way back in 1983, when the Falklands War had only just stopped being a current event, the Austin Maestro was cutting edge, Miami Vice set fashion trends and KC and the Sunshine Band were in the charts that Land Rover launched the One Ten (as the first model was called) and the vehicle sitting in Land Rover showrooms is pretty much the same vehicle. Actually, sod pedantry, it bloody well is the same vehicle. The Defender and its associates haven't exactly had a trouble-free existence. It came close to critical mass sales failure in the mid Eighties and has had more than its share of reliability and quality problems. None the less it has consistently sold around 20,000 examples a year since the mid-Nineties and must make a small but respectable profit for Land Rover considering that its development costs must have been offset around the same time that ridge-and-furrow farming was invented.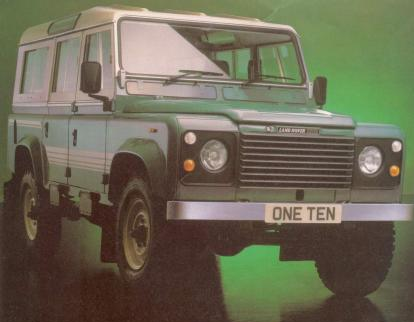 Land Rover took a big leap forward into the Seventies. In the early Eighties.
But these days the Defender isn't the functional travelling Meccano-kit that it was back in 1983. Yes, Land Rover still sell a few each year to masochistic Welsh hill farmers who actively want a vehicle that costs £25k and yet doesn't have a radio and which lists 'rear mud flaps' as a Feature in the brochure. No, in the Noughties and beyond the Defender is a cool car and you're more likely to see one cruising around Wimbledon than darkest Worcestershire. Like all cars that manage to cling onto production long enough the Defender has become a 'design icon' which means that it is now bought by people simply because its 'a Defender' rather than because it's any good as a 4×4 utility vehicle. The 110 Station Wagon (these days available in XS spec with alloys, metallic paint, leather seats, electric windows, air conditioning, inappropriate bare-metal chequer plate and chromed gear knobs) is seen as a funkily retro people carrier which, like all Land Rover products, carries a whiff of green wellies and yellow Labradors which make it acceptable as a lifestyle statement as well. The Defender used to be a wholly classless vehicle that could be driven by anyone and be driven anywhere. Then peoplerealised it was classless and began buying it because they liked that image, which immediately gives the Defender an image to go with it. It's what could be called 'The Audi Effect'.
What's brought all this on, I hear you ask? The answer is this sort of thing: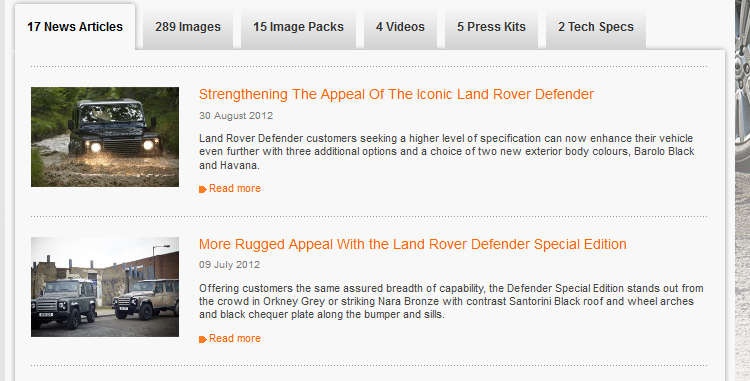 There have been a slew of Special Edition Defenders over the years but most have either been to cash in on very specific events (the 50th Anniversary or Tomb Raider ones) or carry the pretense of being aimed at the off-road market (like the old Silver Edition which was a normal 110SW with a winch and an A-bar as standard). Now we have the imaginatively named Defender Special Edition which is and out-and-out fashion accessory with the poncy multi-spoke alloy wheels, colour-coded styled grille, strange metallic paint colours and oh-so-fashionable black highlights.
As is the way with many manufacturers, a few months afterwards Land Rover have made all those 'special' features available as options anyway, which must make the people who handed over £30k for a metallic beige Special Edition feel like right suckers. There are in fact some extra goodies available. As well as the silly wheels and the black roof you can now get a Defender with, believe it or not, leather bucket sports seats and a bangin' Alpine sound system for yer choons. Unlike before there is not even the pretence that this is being done to make it better at off-road use (as Land Rover did when they introduced leather seats back in 2002). Its all out-and-out pitched at the fashion conscious on-road recreational user.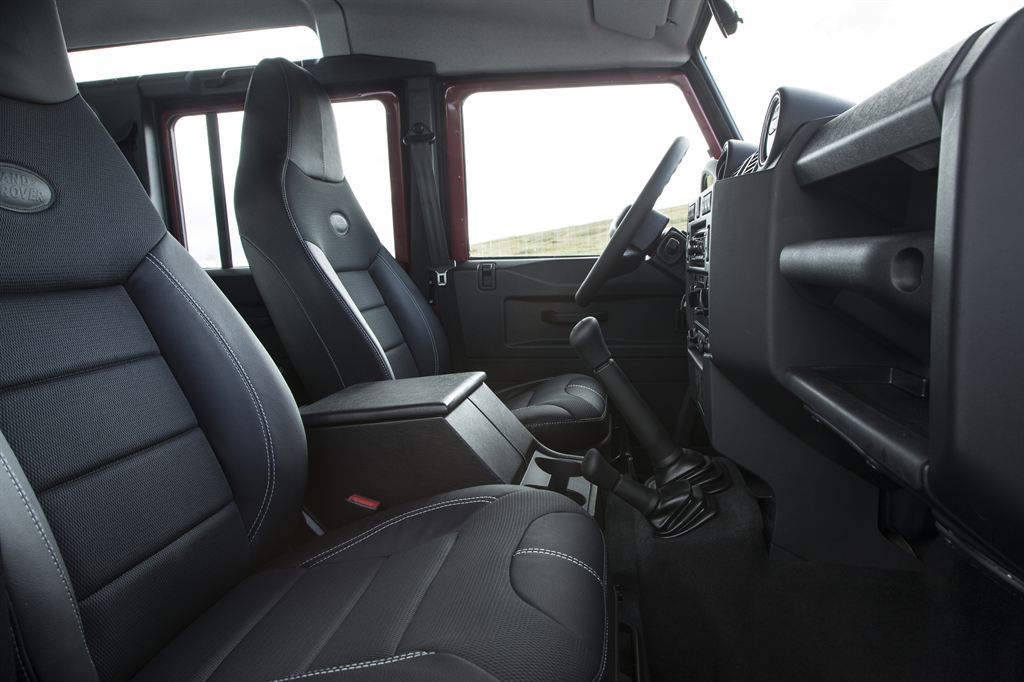 You'll be glad of those side-bolsters when you exploit the Defender's famously sharp cornering ability. Unleash that de-tuned Transit engine POWAH…..
It seems that Land Rover have given up and are just cashing in on the obvious and easy market that fate and their own marketing have given them. In my opinion this is just the start of a whole series of run-out Special Edition Defenders we'll be seeing as the current vehicle finally gives way to its all-new successor sometime around 2015. Fortunately Land Rover seem to be actually taking the difficult but correct route of trying to make that successor a genuine competitor in the global 4×4 market. Which is preferable to going down the route so many feared and just producing a fashion accessory rather like what they're doing to the Defender at the moment. It's understandable but it's a shame if this is going to be how the old Solihull Shire Horse is going to be put out to pasture.