I've got three things on my mind this evening, so let's get down to business:
MG BTCC Edition at Brands Hatch

I made the trek to Kent to watch the BTCC final at Brands Hatch yesterday, because it's not every day you get to watch a 4-way battle for a championship and one of the cars in the running is an MG.
The day itself was great spectator sport with the continual damp and rain making for a brilliant display of driving skill and, yes, a few 'offs' and bumps.
Of course, MG and Jason Plato didn't romp home to win the championship (it went to Gordon Shedden in a Honda Civic) but he did end up in 3rd place overall. A podium finish for MG in the car's debut season should not be sniffed at.
MG Motor had a decent presence at Brands Hatch, with a few replica MG6GT touring cars dotted around and a decent corporate stand with around a dozen models, including two MG6GT BTCC special editions.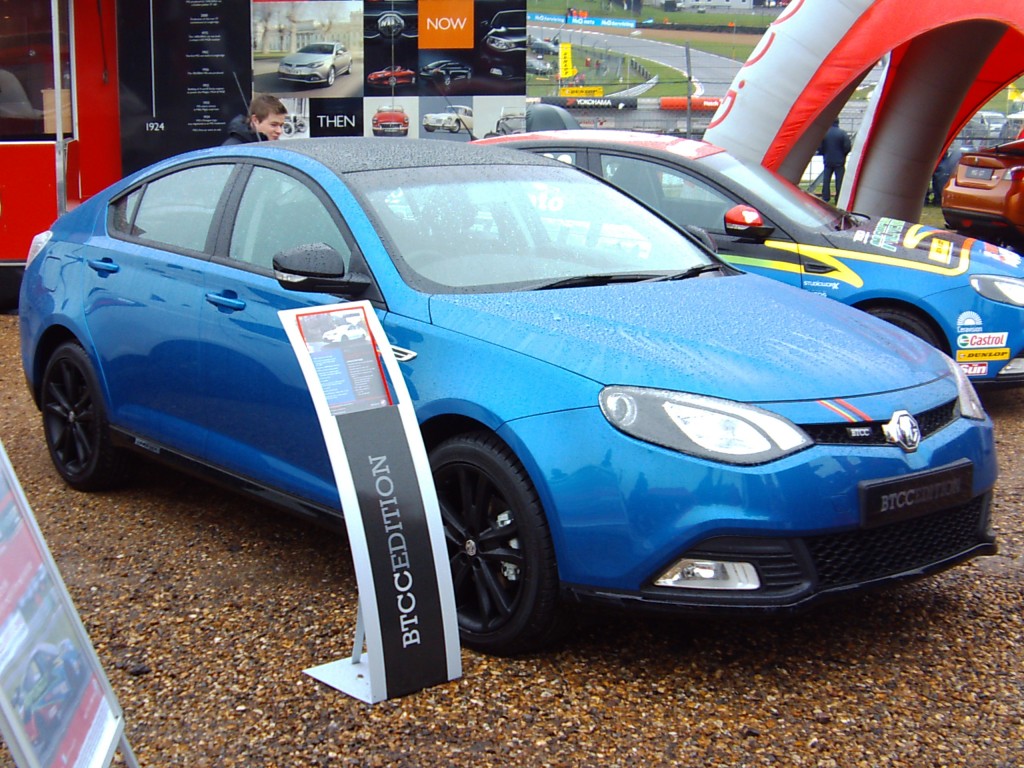 A touring-car related edition or version of the 6 was one of my recent suggestions for what MG should be doing. I notice they even chose the name I suggested, although sadly my idea was more for comic effect because MG6 GT BTCC really doesn't role off the tongue like 'R' or 'MPower' or 'Cup'. It also means that the model can only have a limited shelf-life before the BTCC becomes ancient history. It could never be a permanent fixture in the range. If MG want to play on their car's sporting success in more effective way, I'd be tempted to go with just 'TC'. It's a snappier, more flexible term and was the top trim level on several cars from the MG/British Leyland past.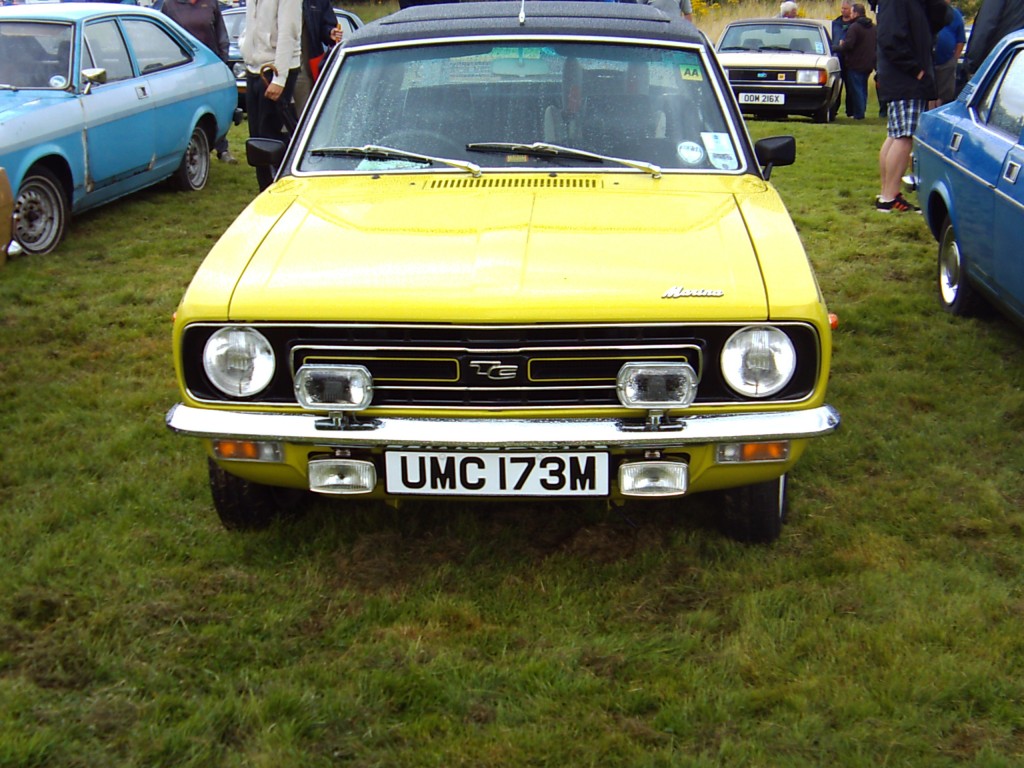 A prestigous badge indeed!
As for the BTCC Edition itself, I quite like it. Some people have criticised the lack of any mechanical changes or performance increases over the standard model but I think that is expecting a little too much. MG are only pitching the BTCC as a special edition rather than an actual performance variant and very few special editions of any car are any more than the normal model with a bodykit and some jazzy graphics.
The bodykit that MG has garnished the MG6 with works well. The mild facelift recently carried out has definitly freshened up the car's detailing and the black sills, roof, boot 'spoiler' and so on work well (especially on the blue car). The only styling flaw, in my opinion, is painting the bottom of the enlarged front air dam black which completely disguises it. The 'MG Racing' spec car (available in China for the past six months and which the BTCC Edition is based on) is white and this really helps emphasise the different frontal aspect for the better.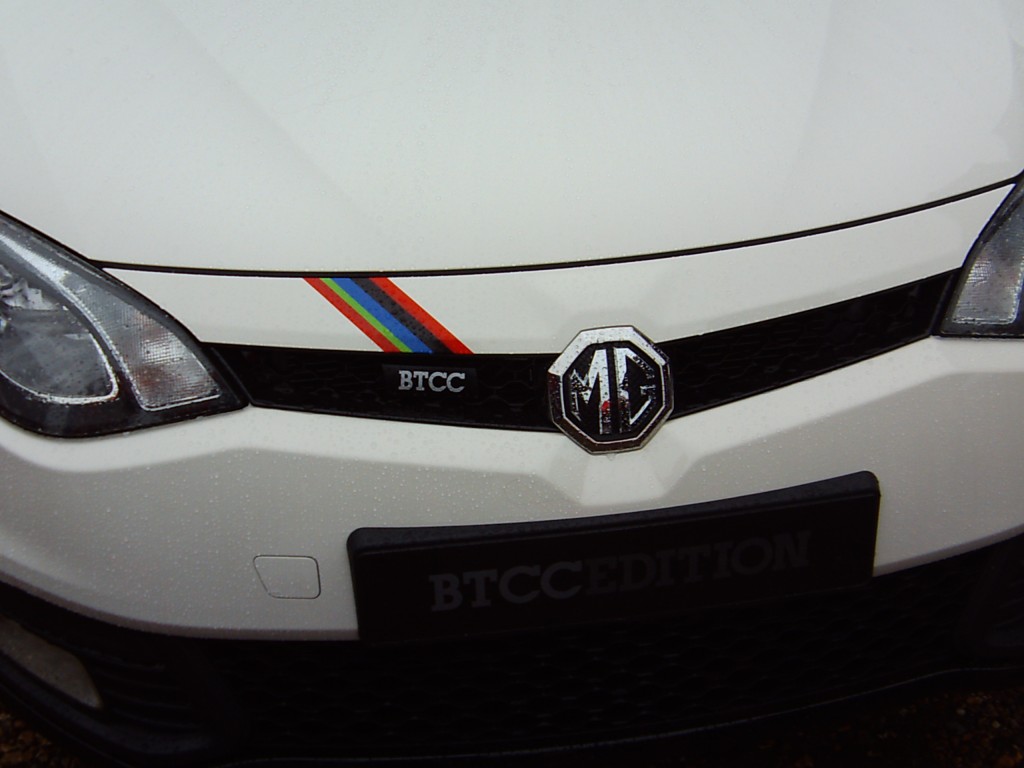 'BTCC' makes for fairly big badges which don't really sit well on panels never intended to take them. This is especially the case for the one on the front grille, which has to be put on at an angle under the slanted bonnet edge, making it look like it's been put on skew-wiff.
The 5-bar colour flashes are a bit of a weak spot. It looks like the logo you got on 80s portable tellys and video cameras to boast about the arrival of Full Trinitron Colour. With four colours and two bars a different width to the others it's doesn't have the same impact as, say, BMW's racing stripes or even the old MG 'XPower' branding.
I really feel I'm being unnecessarily, nit-picking-ly cruel on MG but it's only because I want the people behind it to get this sort of thing right and for the car to do well. This opinion was only strengthened by having a good poke around one of the other cars on their stand, a Magnette HSE in gold (aka metallic beige). The interior really is a nice place to be and the build quality and fit/finish seem to have taken a few more leaps upward in comparison to the already good cars that were on display at Pride of Longbridge back in the spring. There were no wobbly switches, rattle or squeaks, the electronic displays and dash instruments looked slick and modern, there was enough space and it had good ergonomics and a snug, comfortable driving position. My two companions were equally complimentary. One of them, a die-hard German car fan, said that the interior's feel of solidity gave him the impression of a 1980s Volkswagen, which is praise indeed.
So, please MG, now you've rather missed the boat for BTCC publicity, make the most your 3rd place finish and howabout a genuine warmed-up 6? Actually, scrub that- just crack on with getting the diesel version and the 6-speed gearbox over here. Then get the MG3 out here and then do hot versions of both of them. The engineering and build quality is all there ready.
LTI Goes S'aaf of the River
Today came news that Manganese Bronze, the parent company of London Taxis International, has called in the administrators after making a loss for the past four years.This comes a week after LTI's shares were suspended after it issued a recall for 400 of its taxis due to a steering fault. Which came only a few weeks after an IT error caused the company to lose several million pounds earned from recent sales transactions. LTI had been suffering declining sales for many years due to several other build quality issues and the opening up of the London taxi market to other builders such as Mercedes-Benz and Nissan.
As you can probably tell, the death of LTI doesn't come as a complete surprise. The company has already done what seems to be Standard Operating Procedure for failing British vehicle builders and signed a deal with a Chinese corporation, in this case Geely, which builds and sells TX4s in China and supplies them in CKD form to LTI for assembly in Coventry, where the company employs 300 people.
Just as with MG-Rover and LDV this collaboration came with the lure of financial support. This final nail in LTI's coffin came abut when Geely refused to give the ailing manufacturer a loan. Given previous events I'm betting that within 6 months Geely will have snapped up LTI at a fraction of it's value as a going concern, shipped all the tooling out to China and will be selling TX4s back to the UK.
If no one takes over LTI's responsibilities, what will happen to the thousands of cabbies who have an LTI product bought, presumably, under a suitable high-mileage warranty and service deal? Expect a lot of cheap, broken TX1s and TX4s on the market shortly.
A People's Car for the People
VAG never fails to produce 'WTF?' moments when their model range and branding is concerned. Another breaking story today was VW's confirmation that it will be launching a budget brand for ultra-low-cost cars, in line with Renault's highly successful Dacia brand and Nissan's recent confirmation of the revival of Datsun for similar reasons.
It shows how far things have come that the company named 'People's Car' feels it is too upmarket to work on cars produced for use by…people. The announcement also comes shortly after the release of the New New Beetle, which at £20k is not really a car of the people at all, and the news that VW is culling most of the remaining 'heritage' models such as the Microbus, the Jetta Mk2 and the Santana from its global lineup because the image they produce (presumably that of effective, dependable, functional transport for the masses) doesn't sit well with VW's current brand identity.
What happened to the idea of Skoda being VAG's bottom-run brand? Has their revival of Skoda's brand image been so successul that it's now classed as premimum too? Is this because people have finally cottoned on to the fact that a Skoda or a Seat is just a 'premium' VW but for less money?
VW have said the brand will be 'something new', which will be interesting to watch because VW have never created a brand from scratch since it was itself created. What dormant brands do they own? I can't see Hanomag, Horch, Wanderer or DKW really working on a global scale.