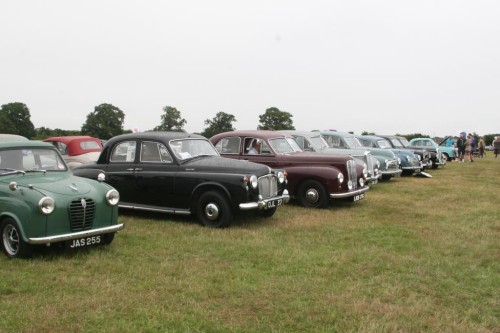 "Time, like an ever rolling stream, bears all its sons away." And so we reach the subject of the first ever Trip Report on this blog and I have to try and come up with interesting way of saying exactly the same thing again.
In fact my task isn't even that easy, because at least last time I was able to talk about racking up 315 miles in a Triumph Stag. In one of those curve-balls that Fate likes to throw you occasionally as you go through life, last year's trip to the BMC/BL Day was the first time I had ever been to Peterborough and three weeks later I found myself living there. If anyone from the city council wishes to use that quote in their publicity, then my contact details are available via the widgets to your right and my royalty fees are very flexible.
What this means is that my trip to the 2013 event would be much more boring. I didn't even have the option of going by car, which is a massive faux-par given that I now actually own a British Leyland product of my very own. You may be thinking "Ha! How ironic! He can't take his BL car to a BL show because it's broken down!" but actually it's because, while the Metro is working absolutely fine* it has no road tax.
*Provided the outside temperature doesn't exceed about 18 deg. C due to it missing a substantial amount of radiator finning.
The Citroen 2CV does have road tax but doesn't start due to (surprise, surprise) an electrical fault. It needs a new ignition coil and my preferred supplier of decent 2CV coils (rather than the Argentinian one it has at the moment) has, of course, chosen the time I need one to go on a three-week summer holiday.
Therefore, while my journey to the 2012 BMC/BL Day was in a 3-litre V8-powered grand tourer snarling its way along the motorway, my journey to Ferry Meadows 12 months later was by fold-up bicycle along the banks of the River Nene, whose crystal clear waters give an excellent view of all the discarded shopping trolleys lurking within.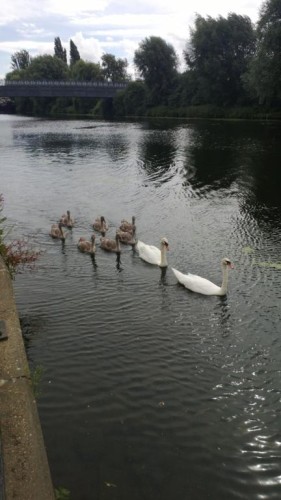 I try to always take a car with some relevance to a show. Now I wasn't even turning up in a car at all. And the bike's not even a Moulton. To complete the dejected scene of a car-less car enthusiast biking along a riverbank strewn with empty Relentless cans and discarded roaches, the weather turned against me. Just as with last year, the very second I set foot on the showground a balmy day turned into a strengthening shower of rain.
The rain fell on the usual array of cars in the 'Field of Broken Dreams', as it was called by a colleague. Said colleague, by the way, turned up in a fully functional Range Rover Vogue, seemingly just to rub in the fact that not only is my car the bottom-feeding prole-wagon of the BL range, but it didn't even work.
Fortunately, the atmosphere at the BMC/BL was as good as it was last year, which is just the sort of thing to lift the spirits. It would be wrong, and stupid, to call it a 'party atmosphere' but it's certainly good natured, as you'd expect from a gathering of enthusiasts with a common interest combined with the cheerful resilience of British people determined to enjoy standing around in a field in the rain. In fact, maybe that's part of the psychology behind the whole BL Enthusiast thing- that same enjoyment of adversity, muddling through and willing to take solice in mass delusion in a very harmless way…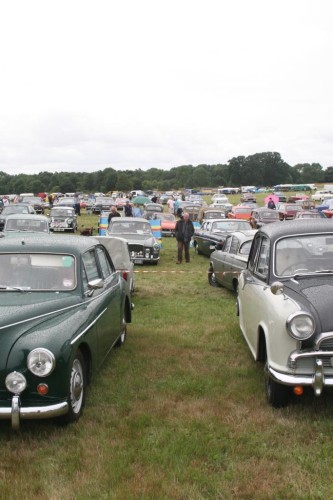 Last year I gave honorable mentions to the stands of the Austin Allegro Club International and the Gay Classic Car Group. The AACI actually won the plaudit last year and so had pride of place with a big stand next to the entrance this year. Maybe I'm becoming jaded but it was a fairly standard line-up of Allegros and VdP 1500s (almost identical to the Allegro 40th Birthday earlier this year). It certainly lacked the whimsy and self-deprecating charm of the Allegro Olympic podium from last year and which so often distinguishes the Club's presence at shows.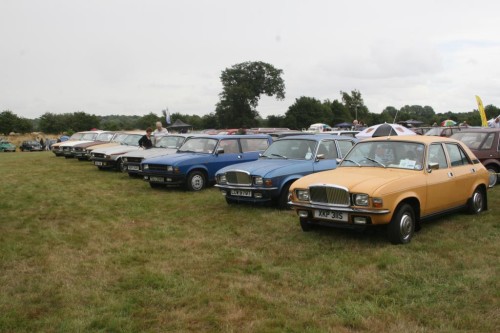 The GCCG stand was noteably sparser as well, although since it boasted a Limeflower Wolseley Six  I can't complain.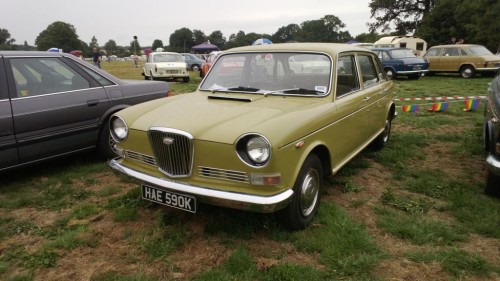 This year the Morris Marina Owners' Club is getting a mention for another cracking array of understeery wonders running the whole gamut from early to late, Marina to Ital and concours Jubilee edition to an early 1.3 coupe with rusty bits, a tidemark of underseal up the doors and mis-coloured panels that appeared to have time-warped out of 1981.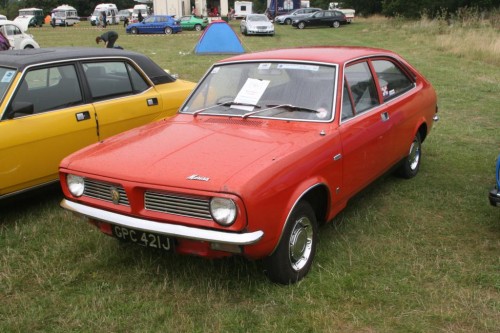 However the entirely worthless Balloon_Fish Best Stand Award goes to the Rover 800 Enthusiasts' Forum for their line-up of 'XX' cars. Although I can say 'My Dad Had Two Of Those', the Rover 800 comes a long way down my list of favourite cars and it still firmly in 'banger territory'. However given the car's rarity and relatively small following the number and variety of 800s on show caught my eye and it's good to see these Rover flagships from the company's Dark Age being cared for. I also liked the fact that there were both (immaculate) standard cars and a couple of modified ones- I feel the BL scene all too often lives up to its image as being full of over-polished MGBs.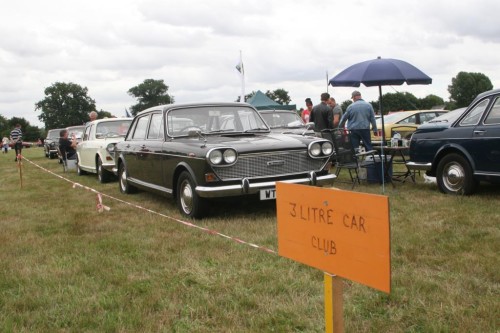 An honorable mention must also go to the Austin 3-Litre Owners' Club which died out a few years back and has been resurrected as an online group. This was one of their first 'real world' meetings and had amassed no less than seven 'Land Lobsters' in one place, which is certainly six more than I've ever seen at once.
As for my favourite car of the show, it was a tough call between this bronze Princess 2: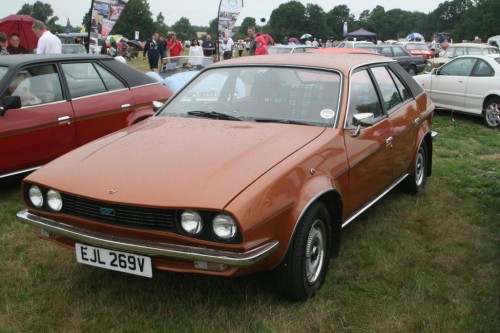 This Rover P6 3500 with spare wheel on the boot: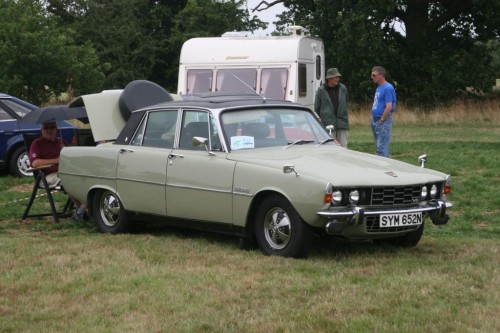 This Austin 1300GT: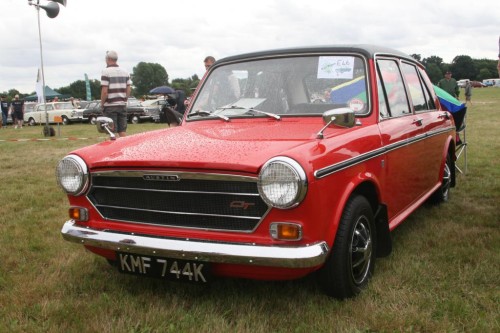 and this Leyland Sherpa with the world's most pointless go-faster stripes: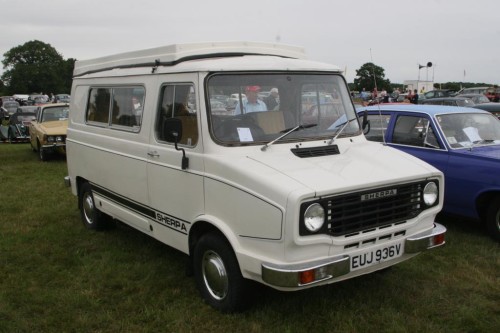 However, the winner is (and, I feel always will be at every show I see it at), this Morris Oxford Series IV Traveller: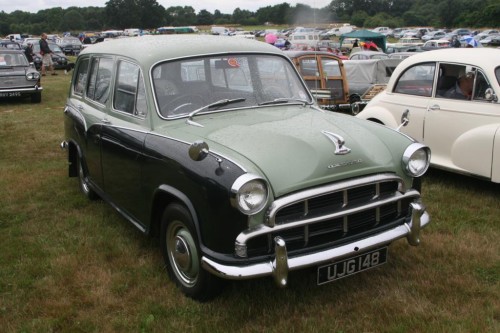 There's not much else to mention, other than the Autojumble section was pretty pathetic. However that's been the case at every show I've been to this year and at least this one didn't mainly consist of stalls selling Dreamcatchers, sweets, suspicious oil additives and cheap mobile phone covers like the section at the Bromley Pageant of Motoring. I'm probably not a good judge in any case as I find autojumble soporifically dull.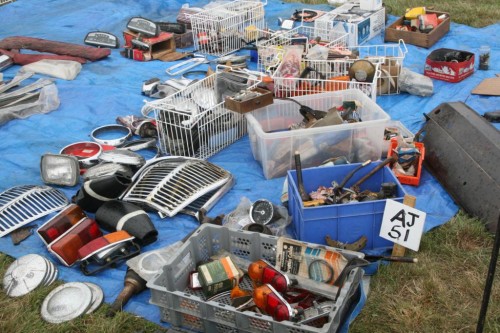 I'd also like to say how encouraging it was to see a good crop of non-BL stuff at the show. Car shows should never be exclusionary and it's good to see things such as Hillman Avengers, VW Type 3s, Talbot Sambas, Lotus Elan +2s, Vauxhall Victors and so on. As well as breaking up the monotony they provide context to the 'main show' and they should be just as welcome to sit in wet field in the Midlands as anything else.
And that pretty much wraps that up. It's still an event worth going to, even if it's for a second time and you're on a bike.