There are some placenames that come to mean much more than a mere geographical description. 'Longbridge' is convenient shorthand for the entire British motor industry during its most troubled times. On the other hand 'Wolfsburg' is a perfect encapsulation of German industrial might, efficiency and blandness. 'Romagna'- a place like that could only be home to almost the entire global supercar industry.
'Brooklands' is another such place. It immediately conjurers up images of green Bentleys and garter blue Bugattis tearing around the banked circuit whilst wood-and-canvas biplanes totter around the sky overhead. It's especially evocative because unlike any of the other places I've mentioned Brooklands is only a racing circuit-cum-airfield. There is no Brooklands village or town. That name and the location (the edge of the Surrey countryside) should be adorning the gateposts of some Victorian country manor house but instead is known around the world as a centre for speed, power and industry.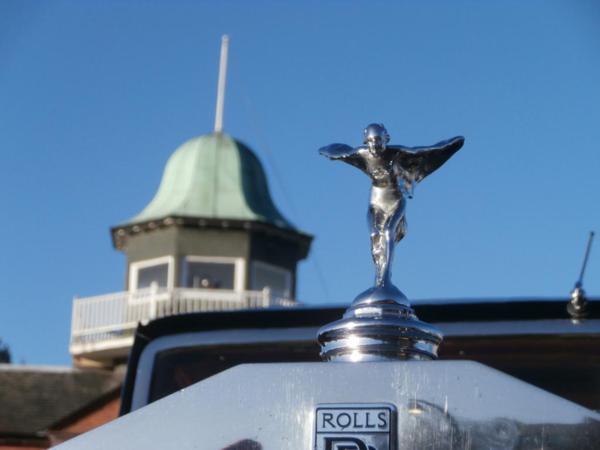 British icons- the Spirit of Ecstacy and the Brooklands Clubhouse.
As someone who likes old cars and old aircraft in large and equal amounts who has spent most of his life living in the south of England it may surprise you to know that I have never been to Brooklands. That finally changed on New Year's Day when I made a slight detour on my trip from Hampshire to Peterborough for the regular classic car meeting at the Brooklands Museum. Given the wet n' wild weather over the Christmas period it was nice to finally see some sunlight on what proved to be a perfect day for car-spotting.
Unfortunately Brooklands' hallowed concrete isn't open to 1987 Metros with scuffed wheeltrims so I parked in the 'normal' car park, but made a point of parking as close to the event as possible.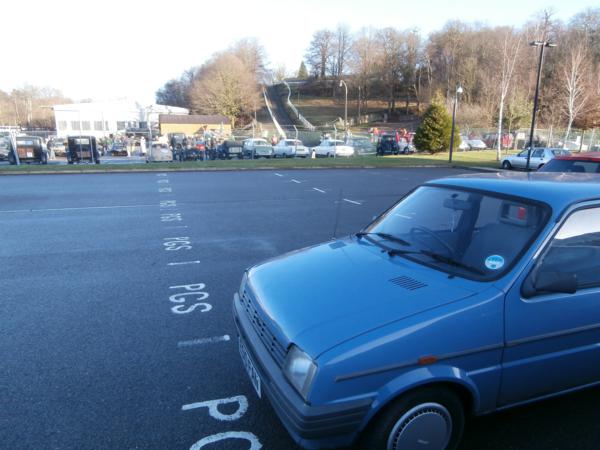 The basic format of the show is that classic cars of all sorts (some from clubs, but mostly just privately owned vehicles) turn up. Those that aren't slightly rusty Metros are allowed to park in the museum site around the famous club-house, the old finishing straight, along the remaining section of banking and then amongst all the old airliners on the former factory apron. To get there the cars had to 'parade' down a steep and twisting downhill access road past the old uphill test runs. Since the several hundred cars took a good  couple of hours to arrive the result was a veritable 'moving motor show'.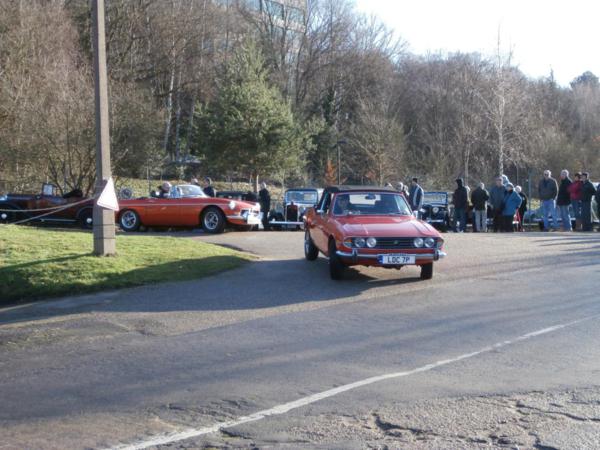 As you'd expect from an event that draws people from around southern England the variety of cars was huge and intricate. There were plenty of the staple models – MGBs, Minis (and variants), E-Types, Stags, Scimitars and Porsche 911s, but there were more idiosyncratic motors there as well – Alvis tourers, Morgan Three Wheelers, a brace of Morris Marinas, pre-war Morrises, a home-made Citroen CX diesel convertible and, much to my private delight, a lone 2CV Special looking a bit lost.
The air thrummed to a symphony of internal combustion- lazy GM big-block V8s, flatulent Morris Minors, the refined whispering of a Rolls-Royce, the coffee-grinder rasp of a VW Beetle and more. I can think of few other events where you'd see a Sunbeam Alpine, an Austin Westminster, a veteran Darracq, an early Mercedes Unimog, an Aston DB6 Supperleggera, a Wolseley Six and a Messerschmitt K200 in quick succession.
I should mention the almost excessive number of Bentleys. I've never seen so many winged-B bonnet emblems in one place. There's nothing wrong with that- if Bentleys can't congregate at Brooklands, which is almost as much their historical stomping ground as Crewe is, then were can they? It just broke up the delightful and eccentric mix of cars a bit when the clubhouse was surrounded on three sides by a sea of dark green super-saloons.
The most prized spots were, of course, on the Home Banking, where the cars were drawn up in two rows across the track (some owners clearly didn't trust their handbrakes judging from the chocks and bricks under a few back wheels). I'd read a lot about how evocative the remnants of the Brookland circuit were and always slightly dismissed it as misty-eyed hyperbole.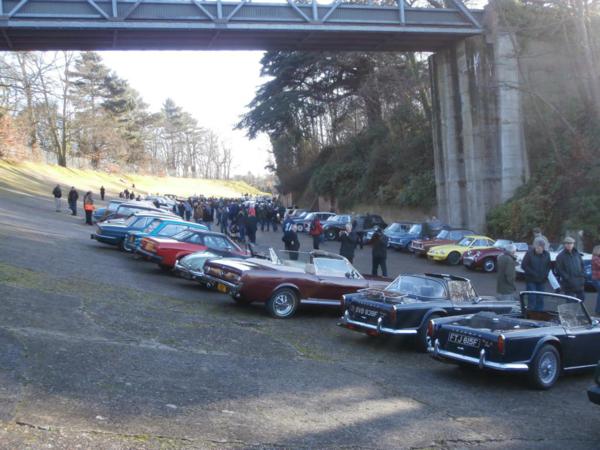 I've been mistaken. Even when a beige Austin Maxi is slightly ruining the illusion the moss-covered, slightly crumbly stretch of circuit is hugely atmospheric. With its mix of pebble-dash concrete and brick support arches the track looks like a cross between an abandoned Aztec temple and a Victorian railway bridge. It suddenly hits you at some point that this delapidated edifice next to a railway in the leafy Surrey suburbs is what is left of the world's first motor racing circuit. You then try and climb the banking and realise how absurdly steep it is and how uneven the surfacer is, even allowing for 70 years of weathering. Then picture trying to wrestle with a 4 1/2-litre Bentley on leaf springs and drum brakes at over 100 MPH as it skitters over the expansion joints and tries to slide into the gutter. Incredible.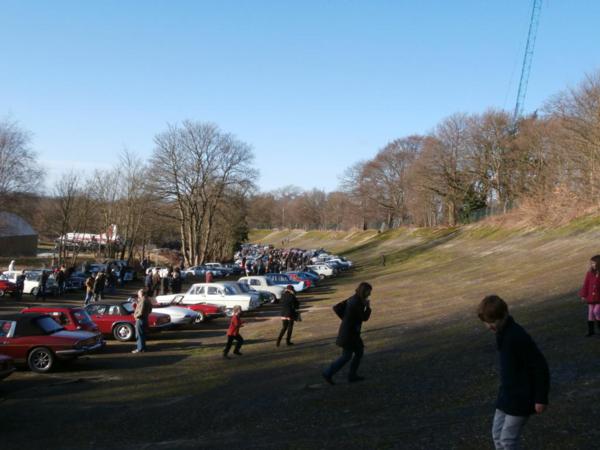 Then there's the whole aviation aspect. Looking at a map of the site you suddenly realise that somewhere near that scabby Volvo Amazon is the spot where A.V. Roe made his first trial flights on his way to becoming the first Briton to fly in a machine of his own design. Or that the car park now occupied by a sea of dull silver executive saloons (and a Metro) was where people used to build VC-10s and Viscounts.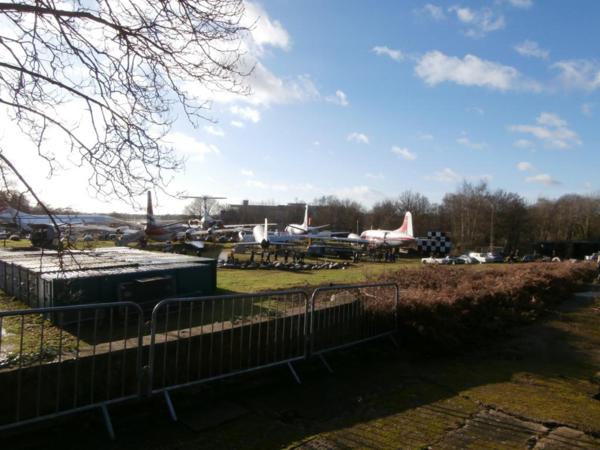 Of course all this national pride is dampened significantly by the presence of Mercedes-Benz World just across the way, complete with a vast (and slowly rotating) three-pointed star towering over the site like a piece of sculpture from downtown Pyongyang, but I suppose that's just a neat encapsulation of the differing paths the British and German industries have taken since Brooklands' heyday.
Here's only a small selection of the cars that were at the Meeting:
The full set can be found on Photobucket here.
I'm afraid I can't really say much about Brooklands as a museum. I made a quick circuit of one of the aircraft hangars to marvel at the geodesic construction of a Vickers Wellington and the ever-beautiful lines of a Hawker Fury. I also ducked into one of the sheds to pay a quick homage to the Napier-Railton (as you should) but that was it. A return trip is definitely in order and I think the New Year's Day event will become a regular fixture.