I don't know if its because we've finally caught on that if you wait for a whole weekend of decent weather in a British summer before bringing the car out lay-up then you never get to drive it, if it's because the general shift in the classic car scene towards cars from the 'Seventies and 'Eighties which generally come with things such as a roof, a heater and radial tyres which mean they can be used in conditions other than 'that one day in May between the wet spring and the wet summer' or whatever, but now there are classic car events up and down the country all the year round.
A staple of the Balloon_Fish family Christmas season has been the meet-up in Wickham village square on Boxing Day (December 26 for any non-UK readers). I use the term 'meet-up' because that is exactly what it is. It's not an event and there are no organisers. It started back in the mists of early time (OK, the early 'Nineties) as a small gathering of local bikers. More bikers started turning up, then some old cars, then some more cars, then more, then more bikes, then some tractors, then military vehicles and so on and on until the gathering takes over the entire square and a few of the surrounding streets. It's still totally unofficial, but it now has a burger van.
Given the meet-up's totally unofficial nature there are no 'rules' as to what can and can't turn up, unlike the more organised Boxing Day event across the county in Romsey, which excludes post-1976 vehicles. This means there is something to suit all tastes, although I must admit even my fairly broad mechanical preferences run out of scope when it comes to bright orange Citroen Saxos bangin' out choons.
The number of cars and visitors gets so much that the centre of the village becomes effectively gridlocked after 9am until about lunchtime, with rather chaotic traffic when everyone tries to leave. As such if you want to take a car it pays to get there early, preferably around 8am (so don't over-indulge on Christmas Day…). It also means that your car is effectively trapped for four hours.
Usually my Dad's 1948 Standard 12 is the representative of the family fleet (it appears that everyone in Hampshire has a story about how hard it is to get the cylinder heads off a Flying Standard) but in a very, very rare occurance the Standard refused to start, so I took the Metro.
It was an illuminating example of how the Metro still isn't considered a 'proper classic' by some. Usually you get half a dozen or so people to chat to if you stand next to the car for a bit. With the Metro I briefly spoke to one person who had an earlier 3-door and wanted to confirm that mine was rusting in the same places as his and to check a couple of details under the bonnet. As is the done thing at shows I left the bonnet open to show off the mighty A-Series lurking within. As I walked away I heard someone say in a very loud 'Ampshire 'Og voice "Why would you open the bonnet on that? What's interesting about a Metro?".  The Metro was also, literally, being overshadowed because parked next to it was a Plymouth Fury Station Wagon which was about three times as long and completely hid the Metro from anyone approaching on that side of the row of cars. Because my Metro is completely stock and very anonymous I suspect a lot people though that someone had just popped up to the square for a pint of milk. All the other bona-fide classics ended the morning with a fistful of adverts and flyers under their wipers. The Metro didn't have a single one.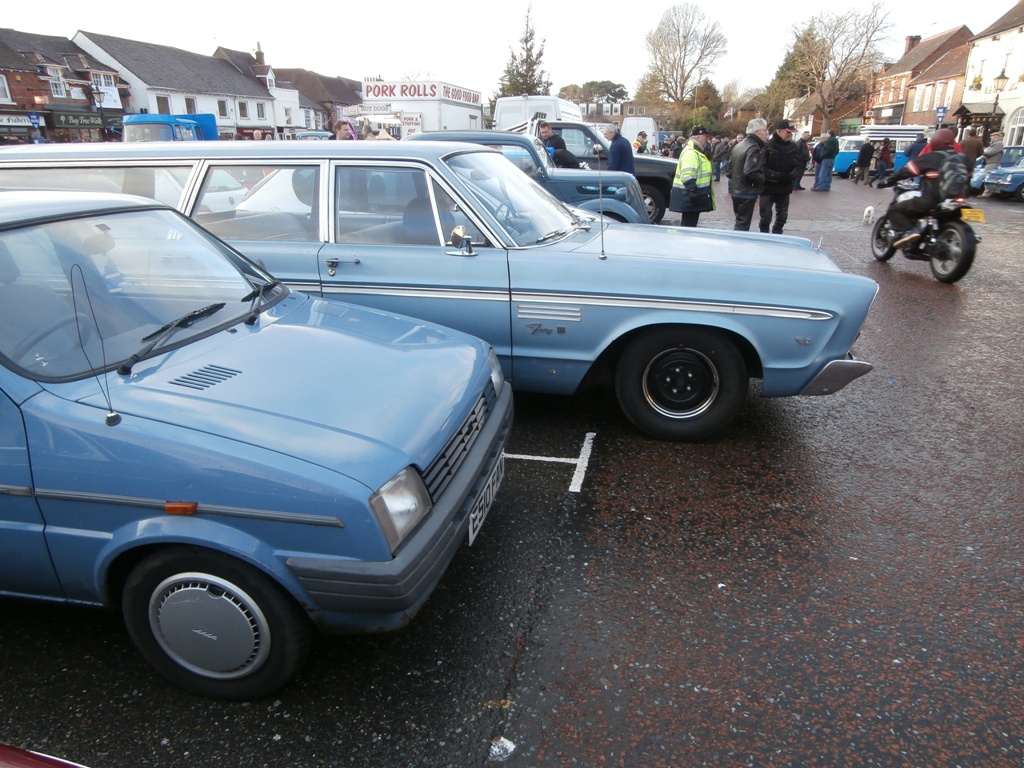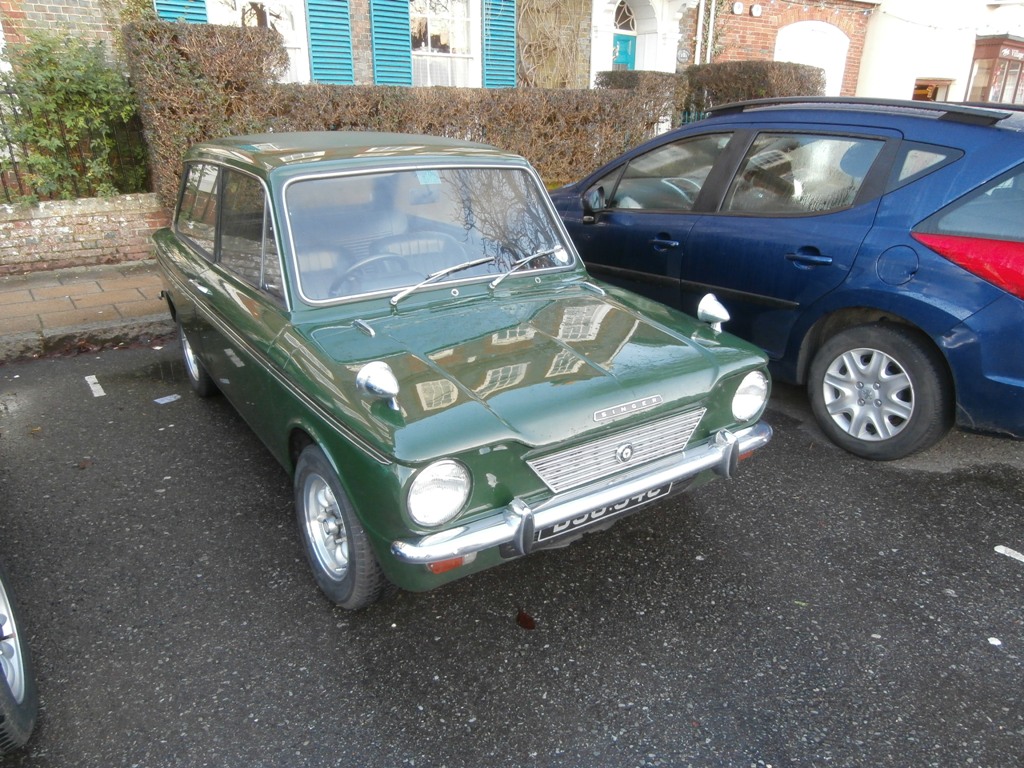 Chamois aren't usually found in southern England, unless it's actually a poshed-up Hillman with leather bucket seats.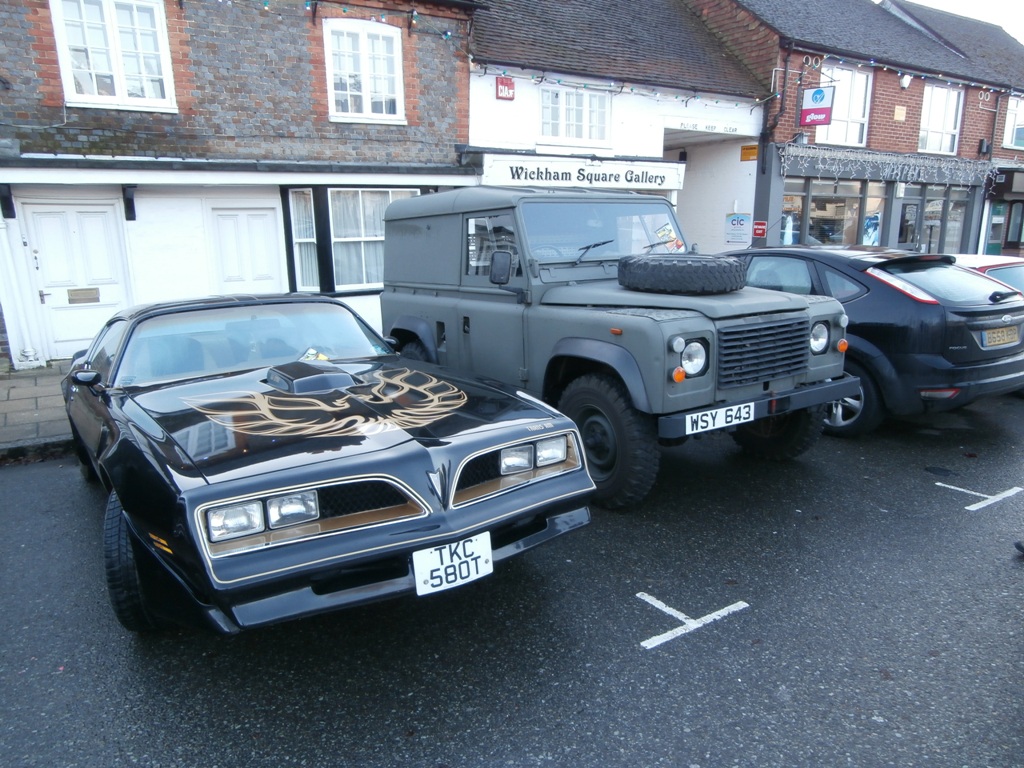 An outdated, tractor-like vehicle with poor dynamic qualities. And an ex-military Land Rover.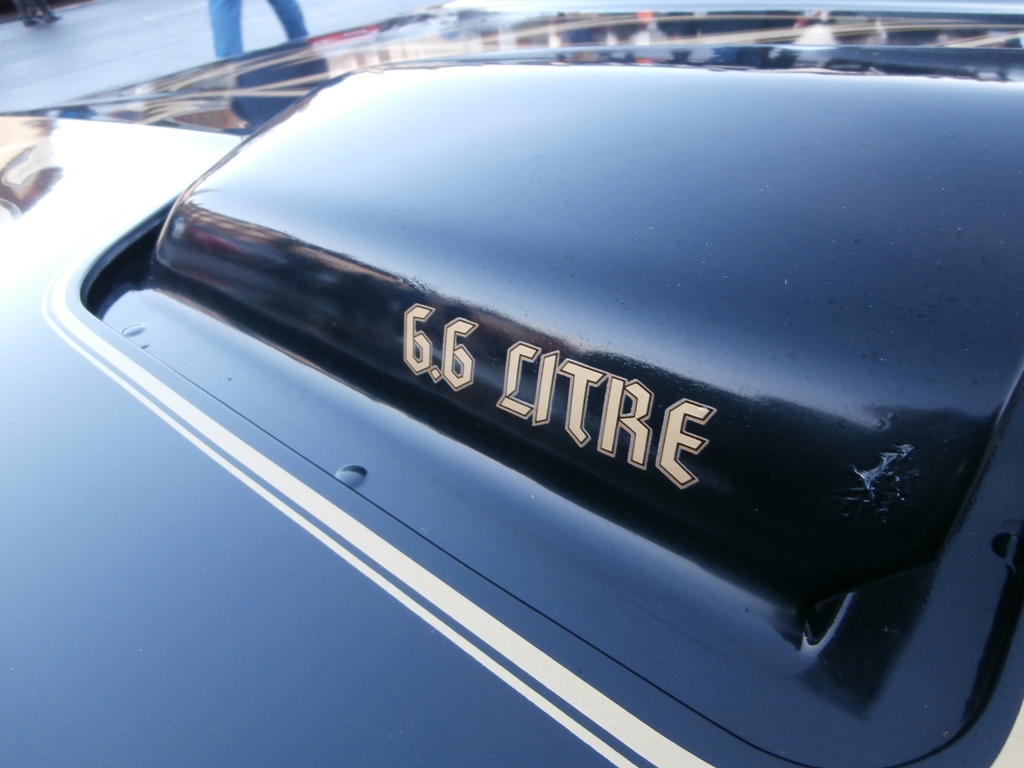 I beleive this is what is known as an  'adequate'  engine capacity.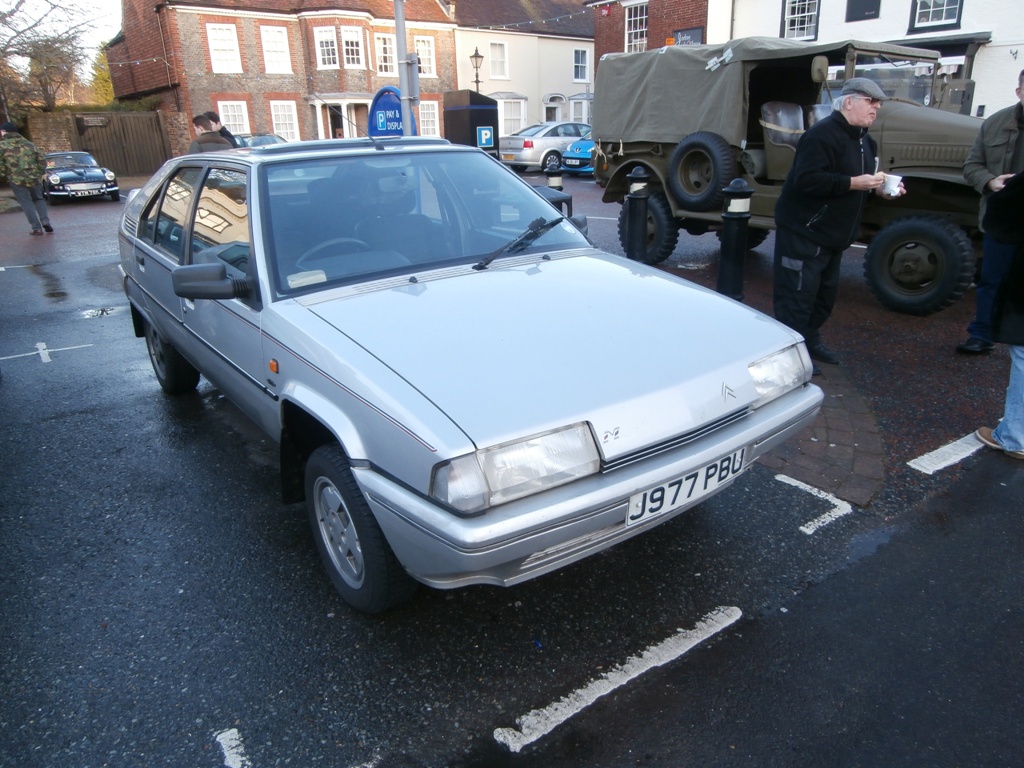 A lovely (and late) Citroen BX 1.9D. Owner clearly showing off by leaving it parked on its tip-toes. It had, predictably, deflated by the time it came to leave.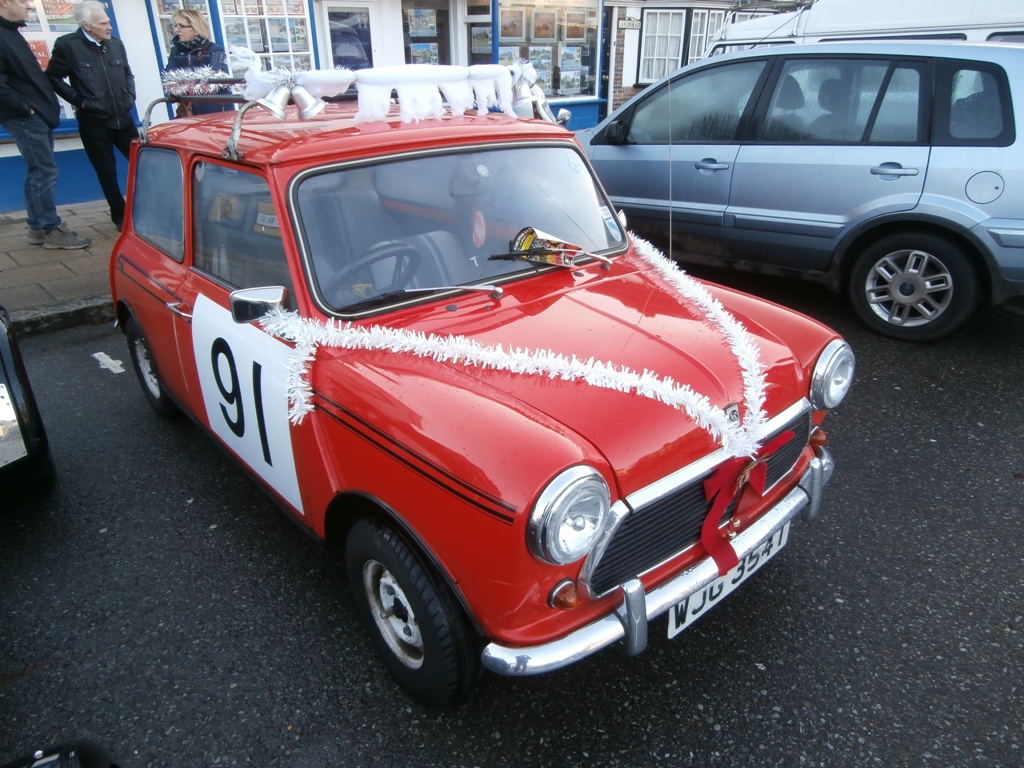 An increasingly rare non-Cooperised 'Seventies Mini, complete with Flying Plughole bonnet badge.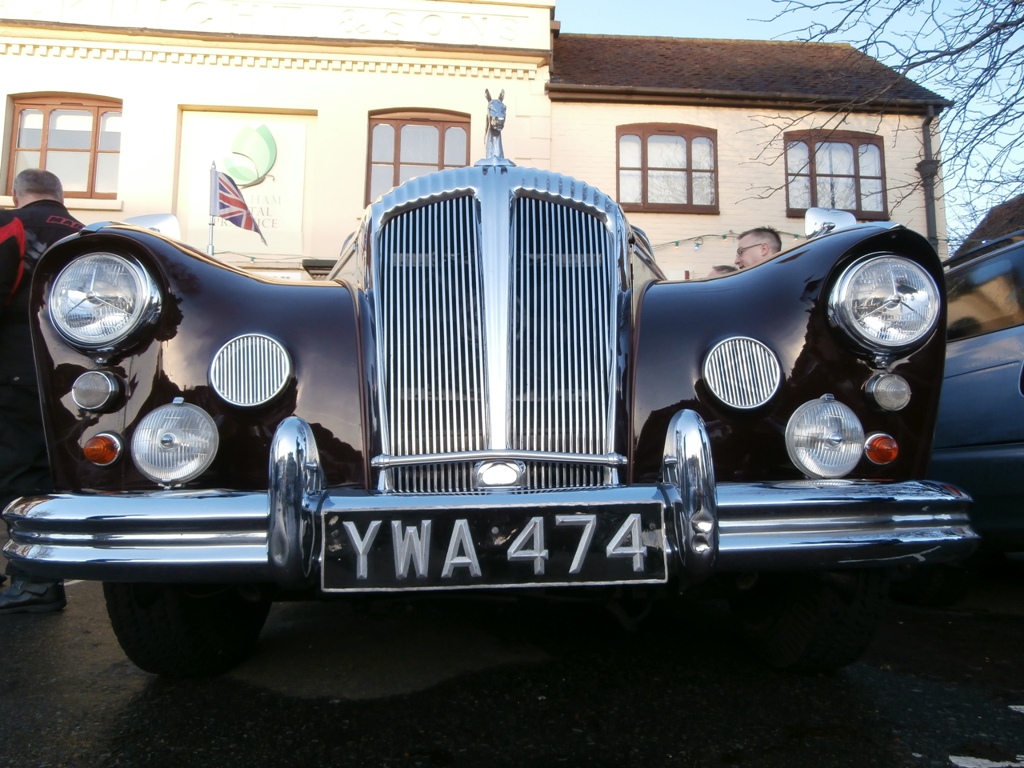 Never was a car better named than the Daimler Majestic.  This is the last thing that irritating member of the proletariat will see before you squish him whilst on the way to buy more caviar.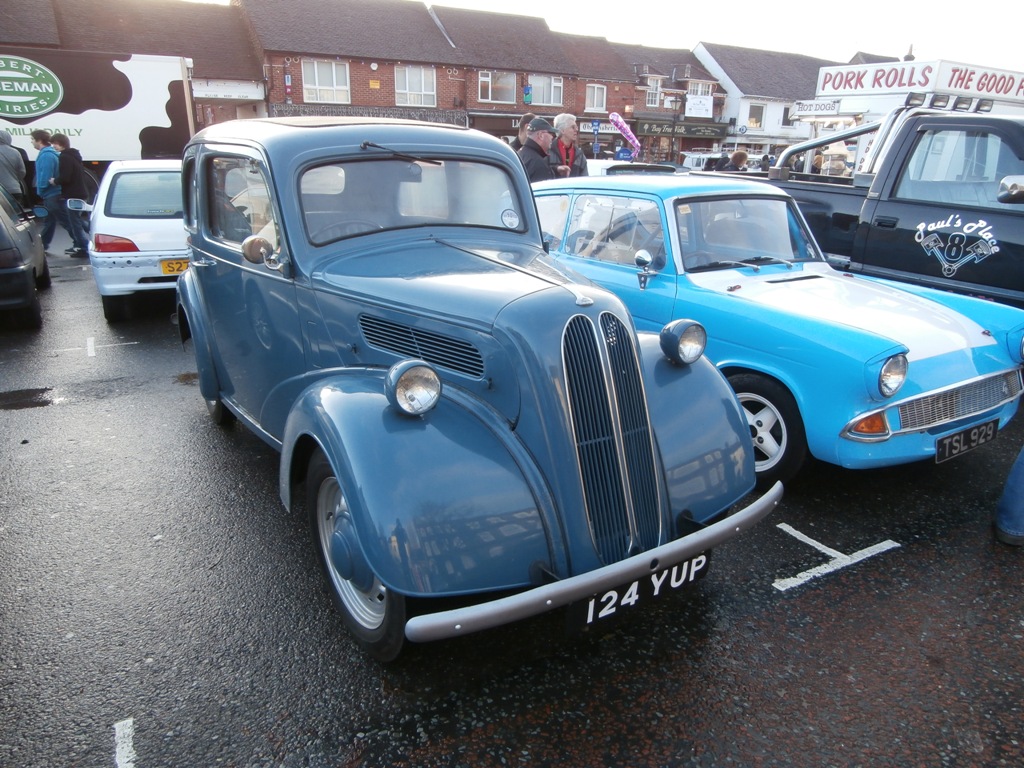 At the other end of the scale was this nicely turned out Ford 103 Popular, next to an equally smart (but much faster) sports-prepped Anglia.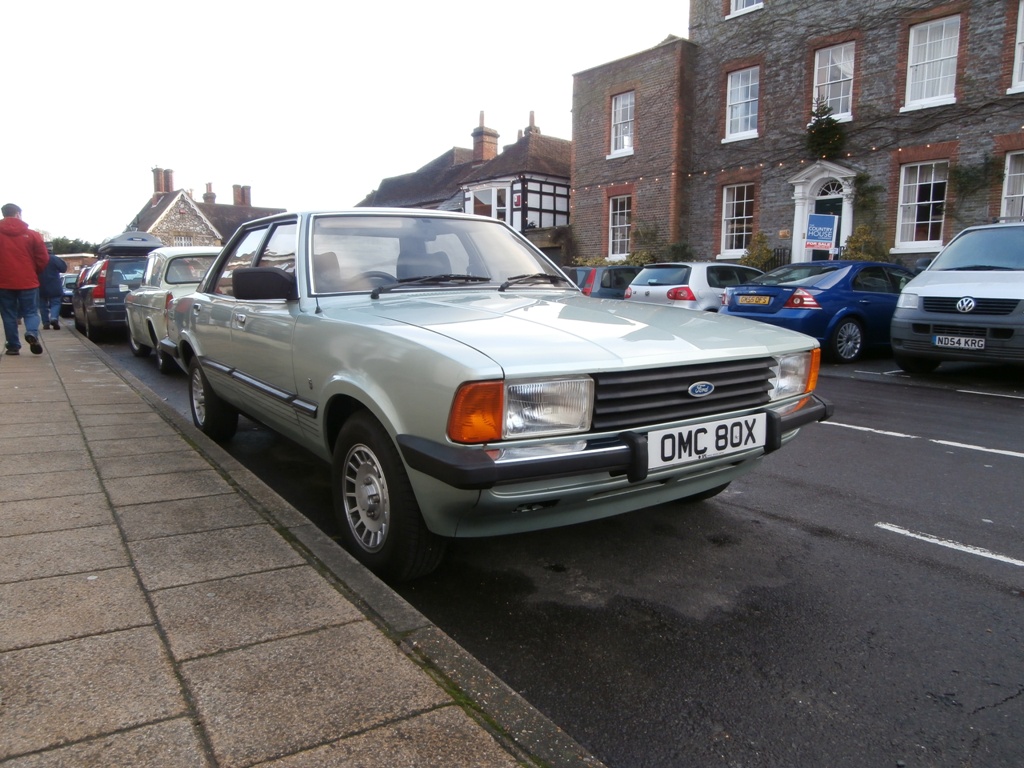 Continuing the Ford theme, here's a wonderfully mundane but rare Cortina.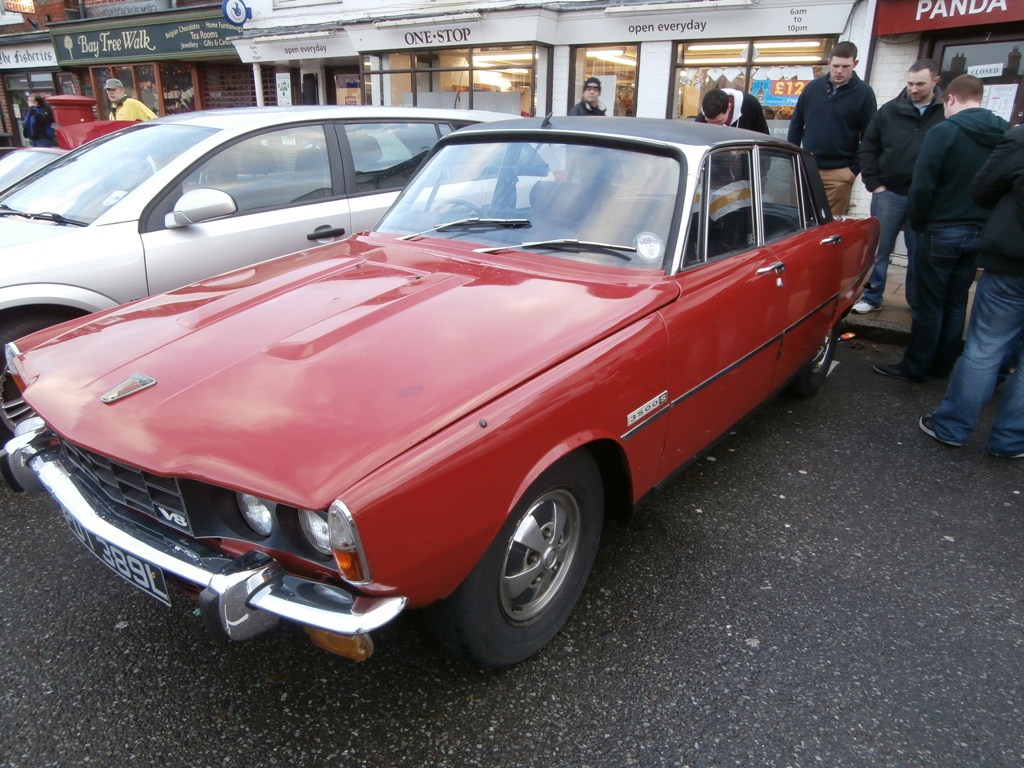 You gotta have a Rover, and why not make it a P6B 'S' on Rostyle wheels? Selective yellow foglamps and vinyl roof make the great greater.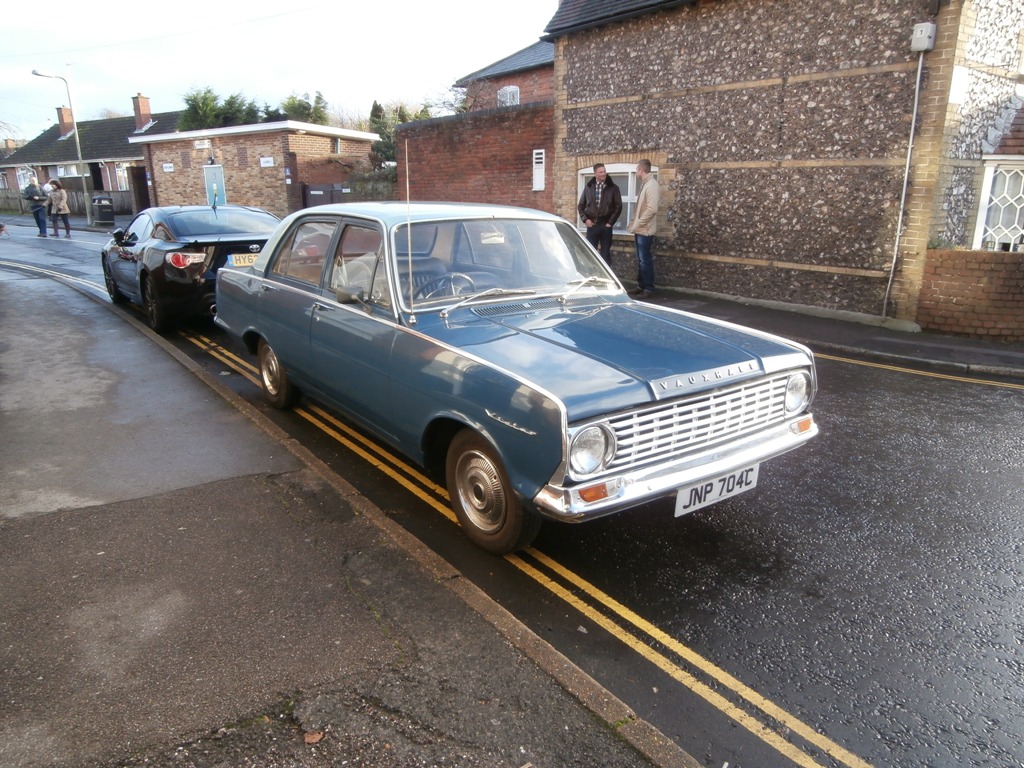 In the background is one of the most hotly-anticipated cars to launched this year which has won numerous awards. I'd much rather take pictures of the Vauxhall Victor.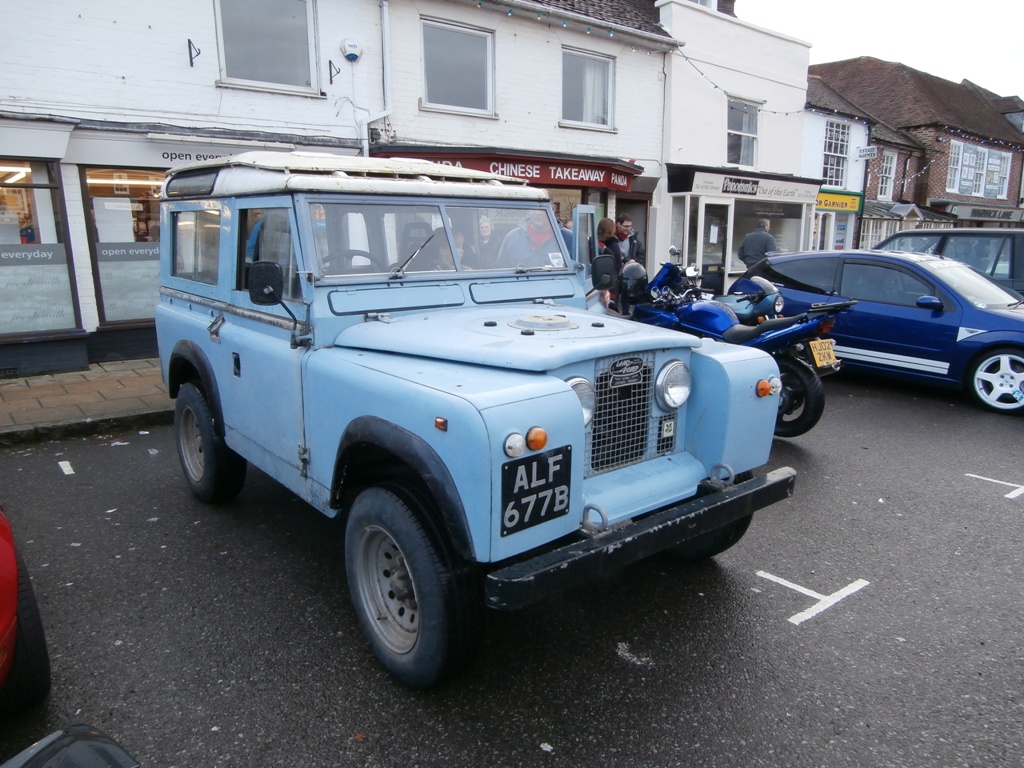 This Series IIA Landy made a good initial impression (light blue, genuine Station Wagon complete with Safari roof). Then I noticed the wheel arch extensions. It was on coil springs. I'm going to be judgemental and say that it had a 200Tdi in it as well. Bah, humbug.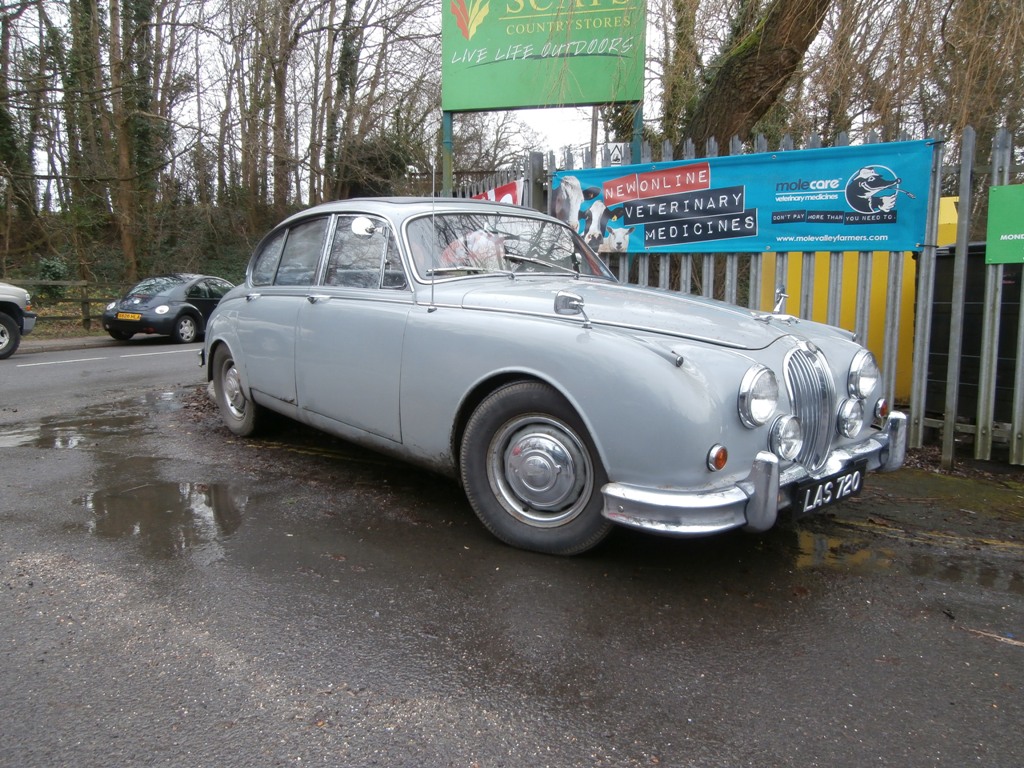 On the other hand, I really liked this slightly scabby Jag. Perfect for that 'country gent fallen on hard times' look. Maybe it was.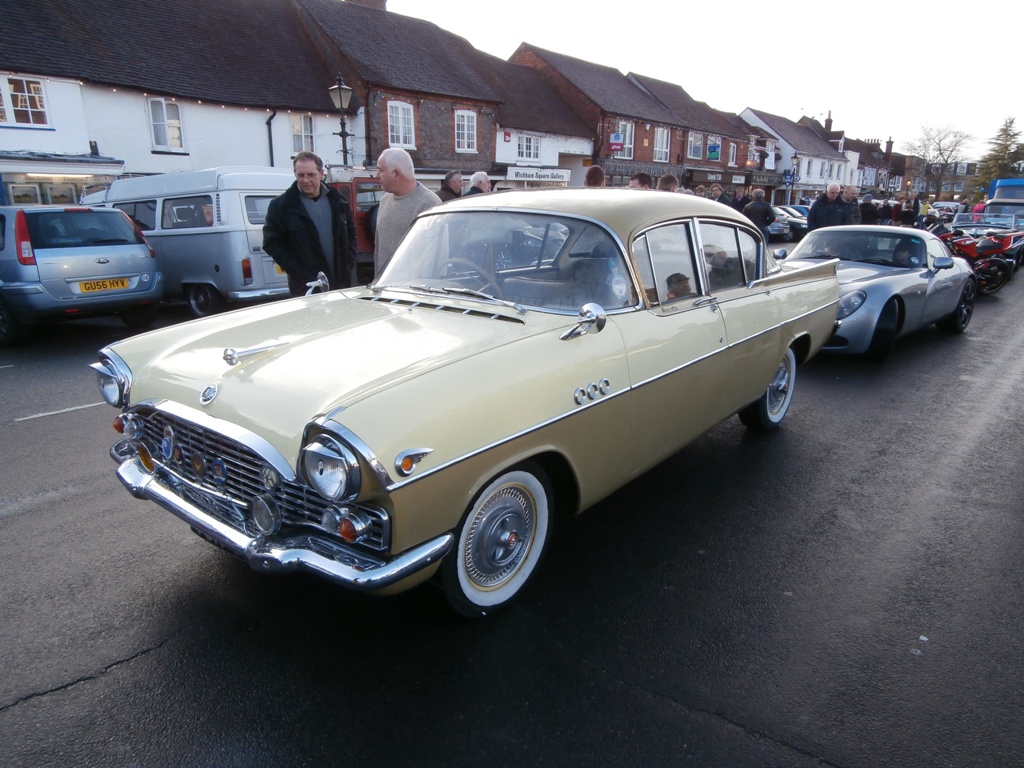 Rock n' roll dudes! Nothing says 'Fifties glamour like a Vauxhall Cresta in a colour scheme based on a banoffee pie. This one had lots of little period additions like the 'gunsight' bonnet ornament and the 'speed holes' on the front wings.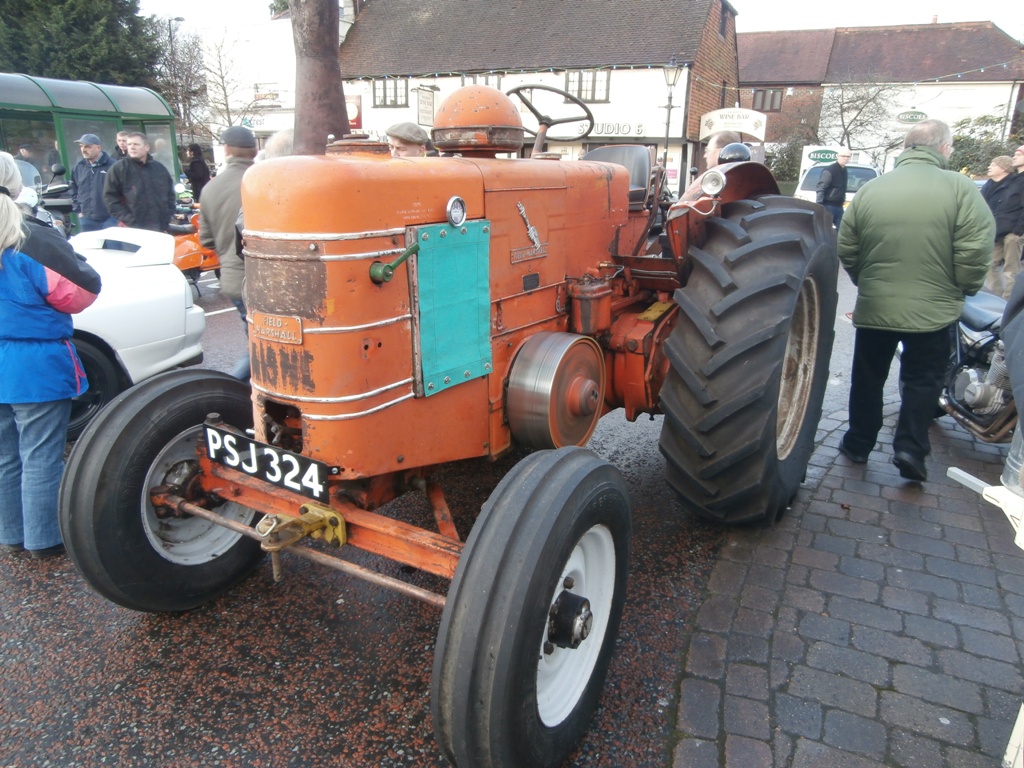 Old tractors are usually a cheap way of owning some classic machinery but sadly Field-Marshalls are the exception, especially for Series 3As like this one. For those unfamiliar with these beasts, they have a 6-litre single cylinder diesel engine that you start by whacking the side of the tractor with a hammer. Seriously.
As always my full set of pictures from the day are here on Photobucket