This is the first in what I hope will be an occasional series of articles looking at car- and motoring-related things in video gaming, thus neatly combining two of my pastimes into one.
So we're going to kick off with something that manages to be neither cutting edge or interestingly retro- Forza Motorsport 4 for the Xbox 360. Since this has been out for almost a year and is within a few weeks of being replaced this isn't going to be a review as such.
To be very brief, Forza 4 is the latest in the Xbox's Forza Motorsport line of racing simulators which began in 2005 ('simulator' meaning that it aims to provide as realistic an experience as possible rather than a racing 'game' which is more about easy entertainment than realism). It squares off against the Gran Tourismo series on the Playstation and has generally tried to differ itself by being incredibly geeky about, almost literally, the nuts-and-bolts of car racing. From the series' earliest days the emphasis was on customisation. You can repaint your car in any shade you want, put different colours on different parts of the car, apply shapes, stickers, symbols, logos, racing numbers and much else wherever you want. You can lavish just as much time on your chosen weapon's mechanics. Modifications can range from a K&N air filter and some stiffer suspension bushes through lowered suspension, sports dampers, ported-and-polished cylinder heads to bored-out engines with huge turbochargers, massively wide wheels running slick racing tyres and even an entire drivetrain transplant from another vehicle. If your car has adjustable bits you can then spend hours tweaking your front toe-in angles and differential bias to try and find that elusive tenth-of-a-second-per-lap.
Forza 4 added to this by bringing along jaw-dropping graphical detail. Each of the 500+ cars is rendered in minute detail inside and out.What I, personally, like about Forza 4 is that it seems to really be a game made by enthusiasts for enthusiasts, with an enthusiast's attention to detail. Not so long ago the headlamps on your virtual car would be a white polygon, then they became polygons badly textured by a photo of a headlamp. In Forza 4 you can see every facet of the lense, each bulb in each cluster and even, if you can get the camera close enough, the filament in the bulb. The game includes a mode called 'Autovista' which does nothing other than give you the chance to fully explore  high detail 3D models of around two-dozen selected cars. The doors open and close, as do the boot and bonnet. Under the bonnet every jubilee clip, warning sticker, HT lead, fuse and sensor is there to (virtually) prod around. And this isn't even the point of the game- it's just there because the developers know that some people like to look at cars for their own sake.
Which brings me to what, for me, is the best development in Forza 4. Previous iterations had, understandably, majored on sports and racing cars. This is all well and good but it's all a bit, shall we say, 'Max Power'. People enthuse over cars for other reasons than pure performance or looks. In Forza 4 the stable of cars includes some with no sporting pretension or ability at all but which are iconic or interesting.This is a very pleasing change and acknowledges that cars don't have to be particularly performance-orientated to be worth driving. Of course Forza's ability to modify your cars mean that, if you want, you can take an AMC Pacer and turn it into something capable of beating Ferraris if you really want, which only adds to the appeal of doing some virtual tinkering.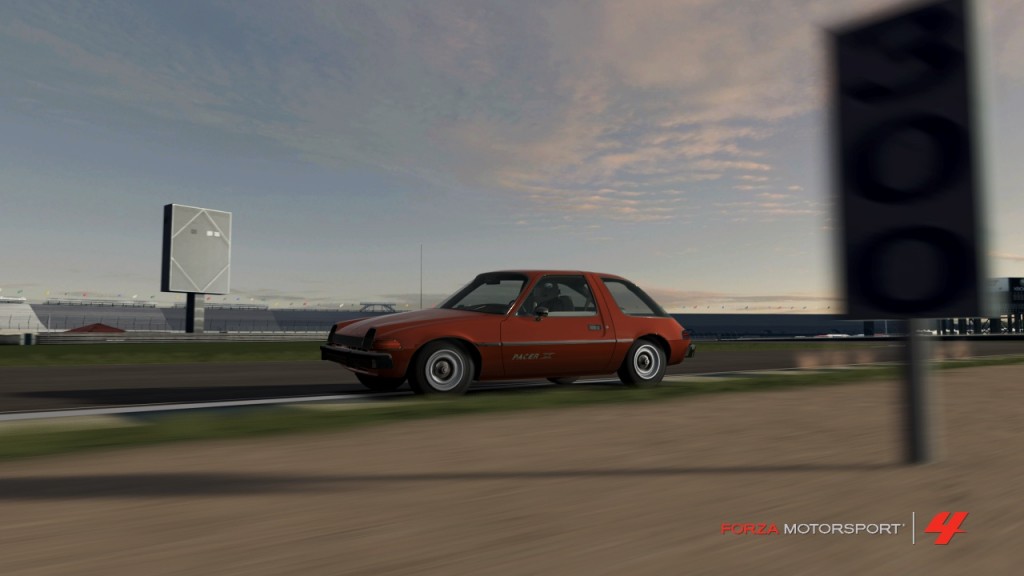 There has also been a change in seeking out cars from defunct manufacturers, which adds greatly to the mix of cars available especially those originating in Britain. We now have MGs, Triumphs and Austin-Healeys to play with alongside Hudsons, Oldsmobiles and De Tomasos.
If, like me, you care more about an exquisitely rendered electronic recreation of an a Frogeye Sprite than one of a Pagani Zonda, this is great. It means that every race can be like the Goodwood Revival crossed with a particularly good episode of Top Gear (the test track of which is now featured in the game).
It means you get races that look like this: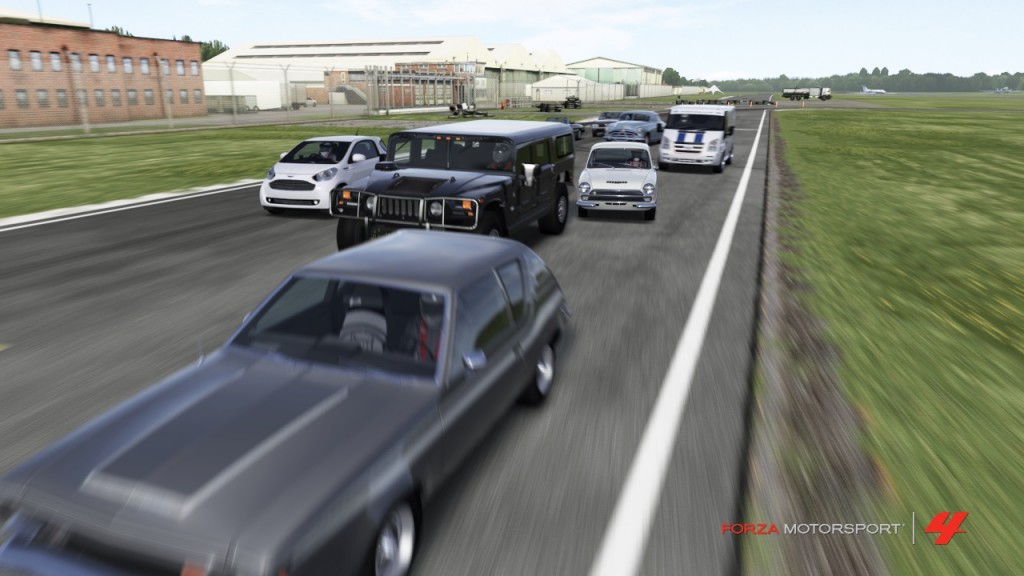 Here's an AMC Gremlin leading the pack whilst a Lotus Cortina Mk1 tries to avoid a Hummer H1. Meanwhile a Transit Sportsvan is being hassled by a Hudson Hornet.
Or what about this? :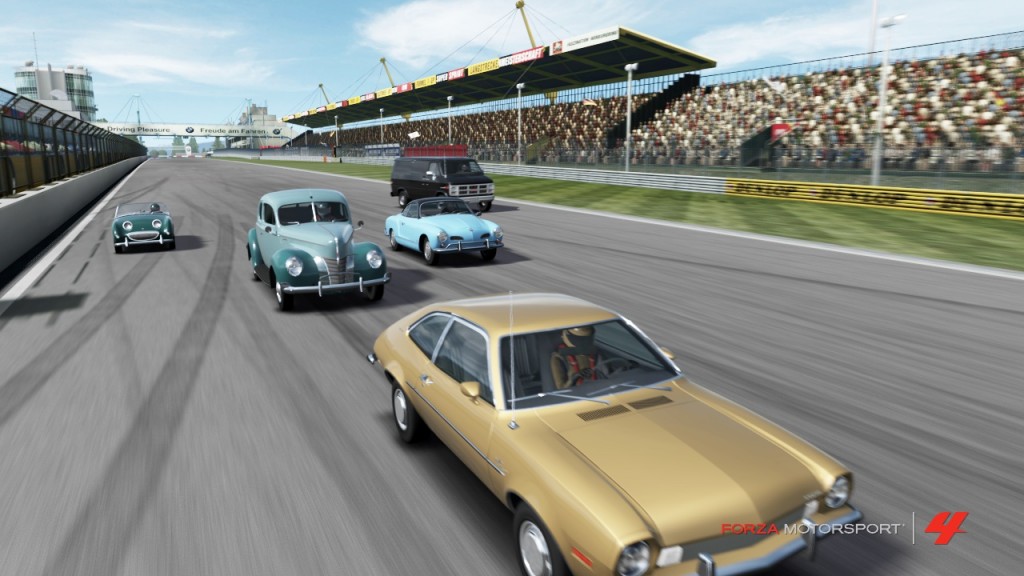 A Frogeye Sprite being out-dragged by a 1937 Ford V8 Coupe whilst a VW Karmann-Ghia closes on a gold Ford Pinto. And yes, in the background that is the van from the A-Team.
Of course you're doing Forza 4 a disservice if you spend all your time chugging around at the bottom end of the performance tables in a 1200cc Beetle. All the cars are worth racing but that's the joy of the way of Forza has gone- it covers all the bases.
However, it may be a sign of my terrible taste in cars and a lack of ambition but when I have the chance to drive a near-perfect rendition of a McLaren MP4-12C would I rather drive this: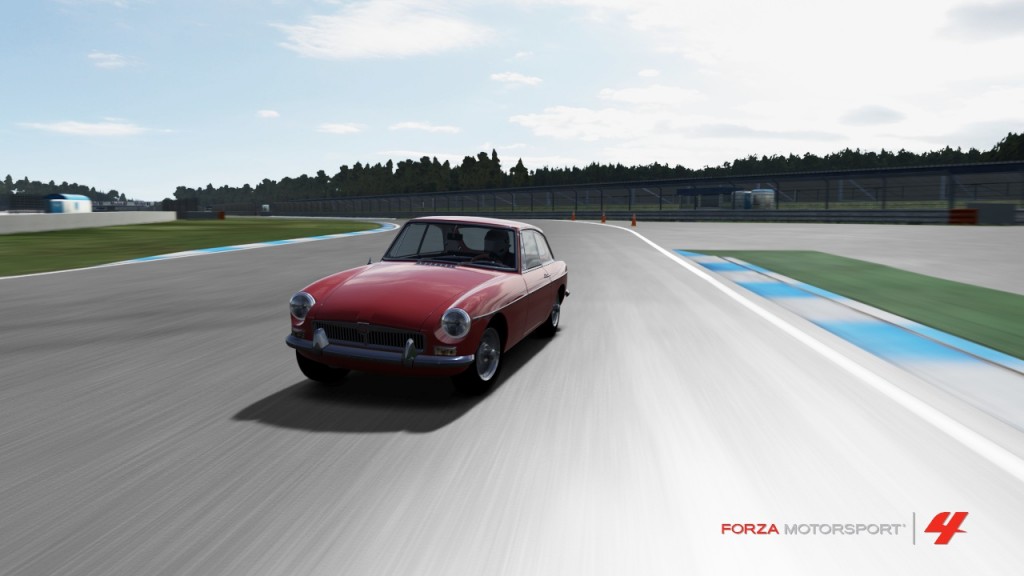 or this: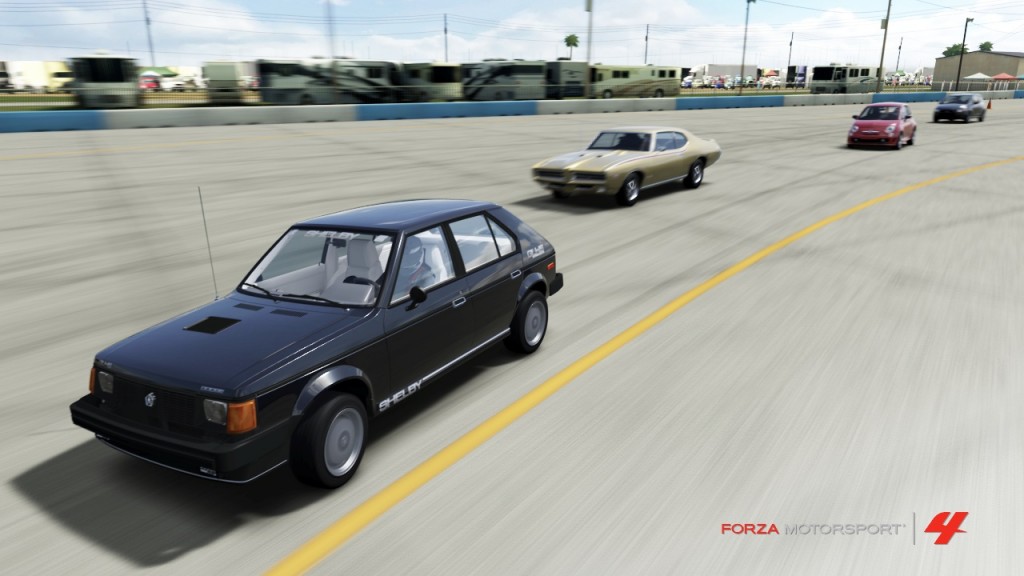 I mean, isn't it much more interesting and varied to see how well a Dodge Omni GLHS does against a Fiat 500 Abarth than how many fractions of a second faster a Lamborghini Aventador is than a Ferrari 458?
Where else would you get to see a Ford Country Squire Station Wagon nearly running into the back of a Saab 99 Turbo on a racetrack?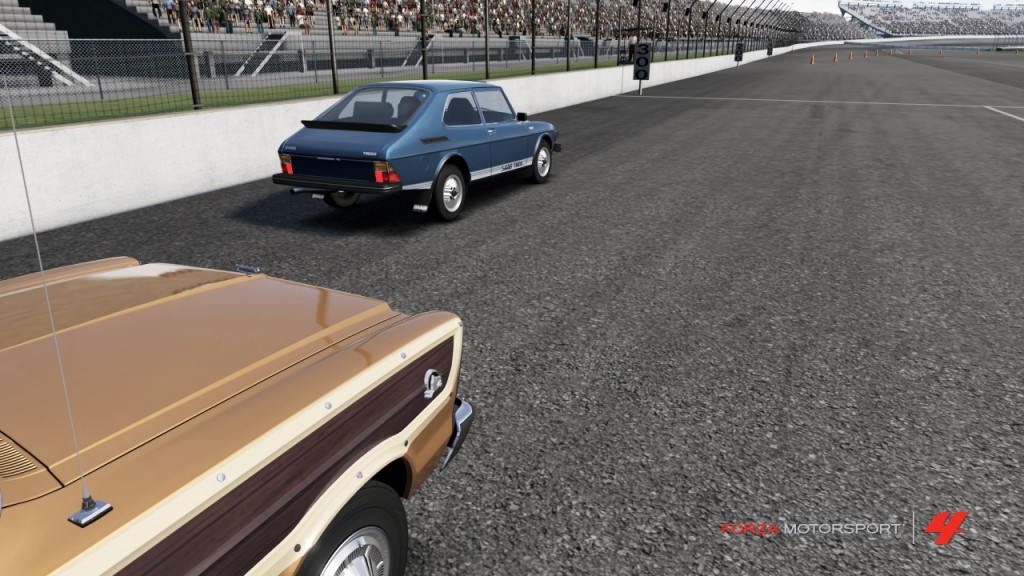 For a classic car enthusiast this is as close as we'll get to driving many of these cars. The visual models seem spot-on and they make the right sort of noises (I particularly like the shrieking fan roar of the Karmann Ghia when you thrash it!). The handling will never be better than approximate when you're 'driving' whilst sitting on a sofa with a handheld controller but they all seem to drive roughly as you'd expect- the Caddy Eldorado is huge, rolly and slow, the big Healey is fast with hefty steering, the classic Porsches will snap into oversteer given any sort of provocation, the muscle cars are unsophisticated and the Ford Escort RS1800 is fantastically lairy: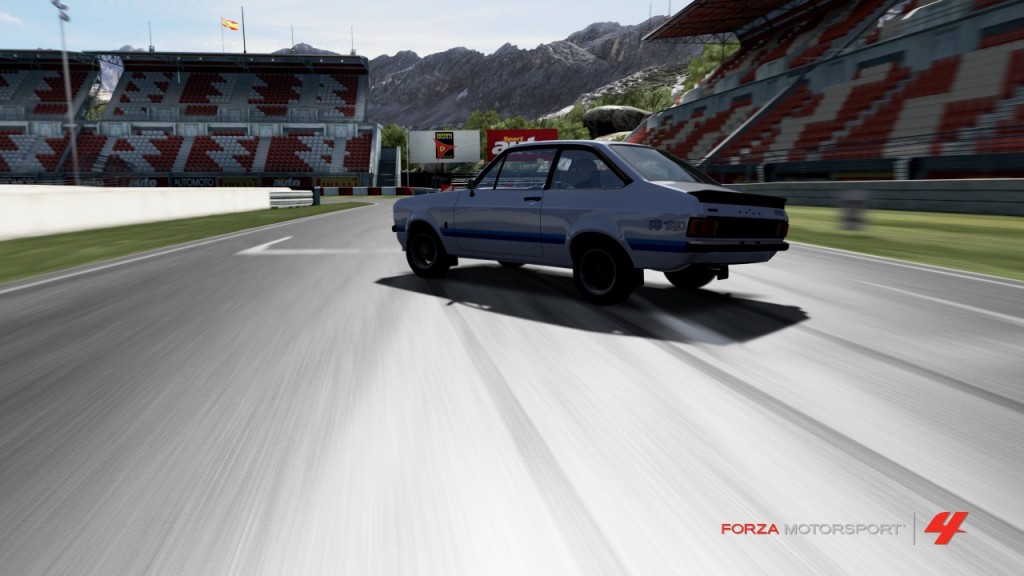 It's just a shame that I didn't get around to writing all this a year ago when Forza was still vaguely fresh, otherwise I'd recommend it in an instant to any car nut with an Xbox, even if they weren't into 'racing simulators'.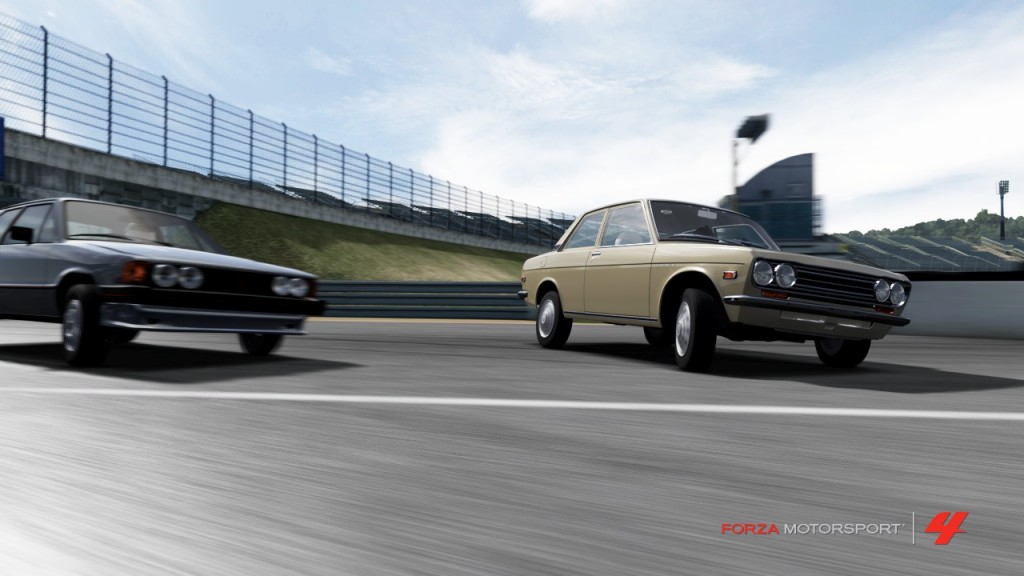 Fortunately the next entry in the Forza lineup, due out in a few weeks, promises to put a new spin on the genre which has certainly piqued my interest. Watch this space for something more topical.