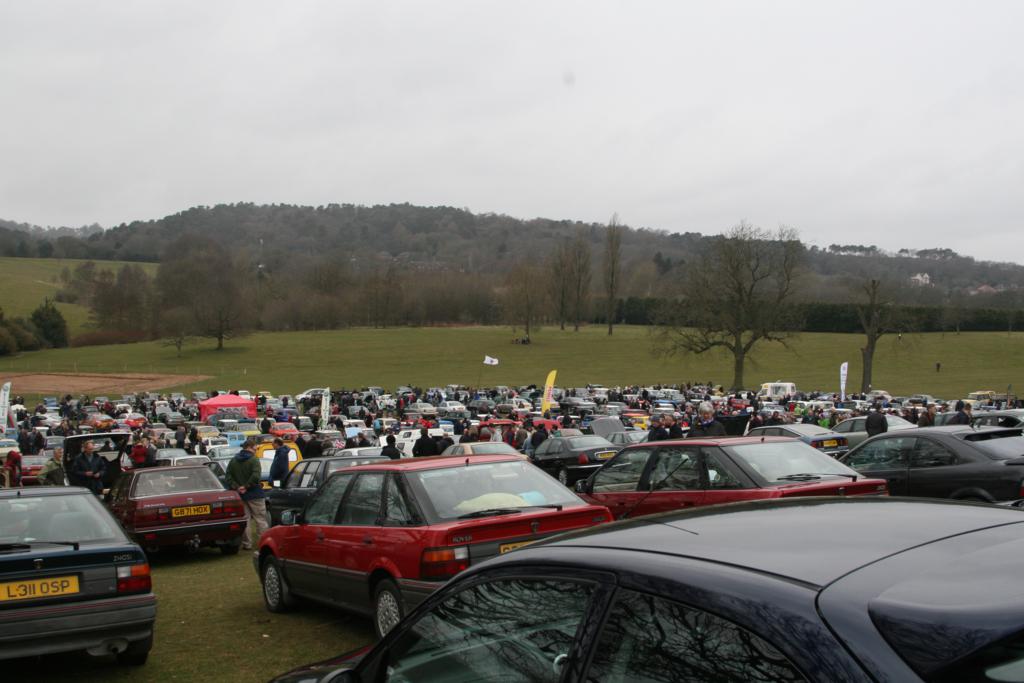 Pride. Longbridge. Two words (or an emotion and a location) that are rarely associated with each other. None the less the Pride of Longbridge event is now in its eighth year and is going from strength to strength.
It's a rather odd event, with its origins as a sort of funereal wake for MG-Rover- a gathering of Longbridge-built cars in the park literally across the road from the factory gates to mark the passing of two once-great car marques and the ending of a way of life in that particular corner of Birmingham. The 'Pride' wasn't some misguided or jingoistic belief that the Rover Streetwise was the greatest car in the world, or that Longbridge was some sort of Midlands equivilant of Wolfsburg, Dearborn, Nagasaki or Milan. The gathering was more to keep the memory alive and, amid the strange national soul-searching that the collapse of MG-Rover provoked, provide a reminder that it wasn't all that bad.
Since then ,of course, things have gone a lot better than many people believed they would. Longbridge is still around (just), as is MG (just) and it's still making cars (just). The British motor industry as a whole is undergoing something of a renaissance led largely by the ex-British Leyland parts of Jaguar, Land Rover and MINI.
This means that over the years the atmosphere and the scope of Pride of Longbridge has shifted. It's now very much a celebration of all the 'BMC to Bust' products in any guise and it has spawned a sister-event with Cowley-built cars making a road run from Oxford to Longbridge to attend.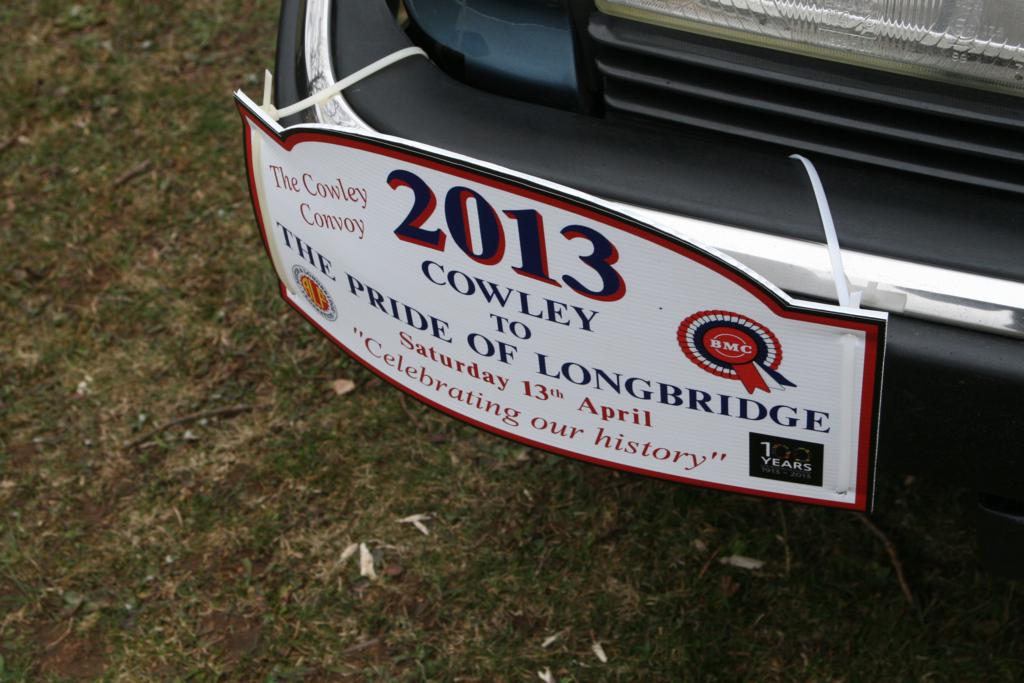 I've only been to PoL once before but it was worth it for the atmosphere and the variety- certainly worth making the trip from Peterborough on a day forecast to be wet and a bit miserable. Fate and my less-than-practical "Two In, One Out" fleet rota system meant that, having finally bought a Longbridge-built product, it was in a garage in Portsmouth while I was in the Midlands. This left me the choice between a Paris-built Citroen and a Solihull-built Land Rover. Obviously the Land Rover was the final choice. The Landy doesn't often get a 'day out' and the 2-hour slog along the world's least glamorous stretch of motorways probably did it a lot of good.
PoL serves as wonderful proxy for the factory's history as a whole, being well intentioned but horrendously badly organised. Cars are supposed to be grouped broadly by type but because there are several entrances, far more cars than the organisers ever expect and a group of selfless volunteer marshals who, for all their dedication, I rather suspect can't tell the difference between an 1100, a Landcrab and an Ambassador, it's generally verging on chaos most of the time.
The weather forecast hadn't deterred people and the event was even more packed than it was last year. The Longbridge connection has become even more tenuous as there were cars from Cowley, Canley, Solihull, Speke, Abingdon and Bathgate all present. The term 'Rustival' has been floated about as an alternate name for PoL and the event does seem to bring out the, shall we say, less appreciated products from the BL-related stable. The same clan of Austin Ambassadors that I saw earlier this year at Brooklands were there, but there was also a healthy turnout of SD3s, a couple of Triumph Acclaims (and, rather cheekily, a Honda Ballade) and a smattering of early Rover 800s.
MG Motor had a presence, as you'd hope since it's literally just across the road. Rather worringly the selection of cars they had on display was exactly the same as the one I looked at at Brands Hatch last year. In a wonderful physical metaphor for…something…the engine keeping their marquee inflated broke down and the whole thing collapsed on top of the cars.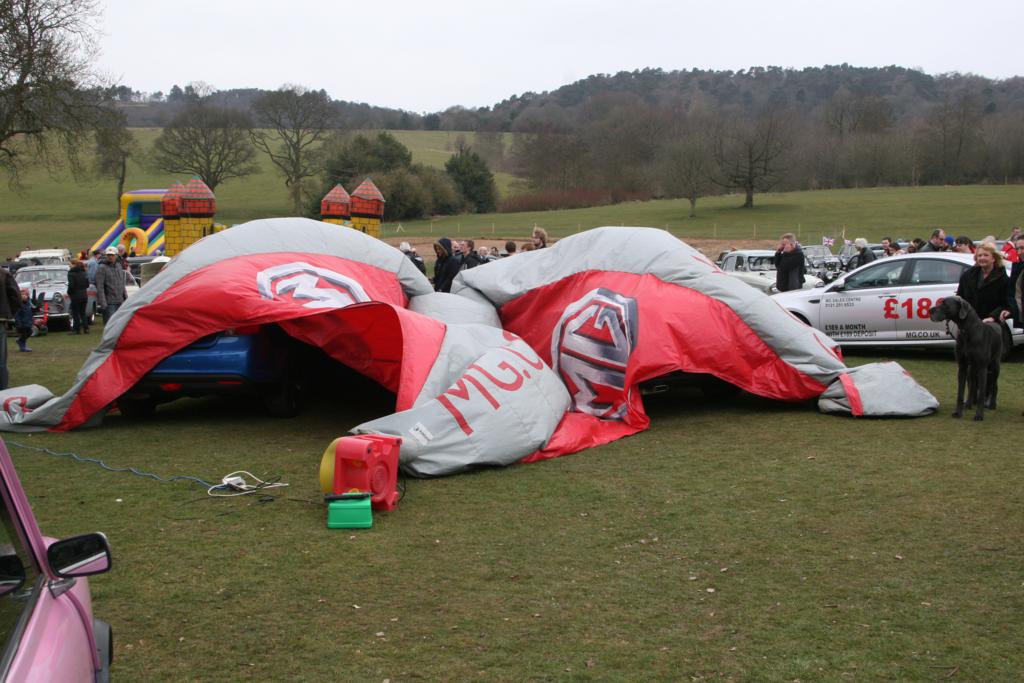 There were, of course, the usual suspects with large formations of Farina Cambridges/Oxfords, some of the 'County' era Austins (including two A40 Sports) and a selection of pre-war 'Big Austin' semi-streamline saloons. There were plenty of Minis- I'm still suffering a bit of residual Mini 'white out' from the day at Brooklands but there were some nice straight examples amongst all the chrome-clad 'scene' ones. The weather did seem to put off the Austin Seven crowd, which was noticeable by its absence. My slow-burning ambition to attend a show with every variety of ADO16 once again went thwarted for the lack of a Morris and a Vanden Plas. Also worthy of mention is the pair of prototype Austin Ants- basically Mini Mokes with four-wheel drive (but still a transverse engine) and better ground clearance. It's good to see this sort of thing making an appearance at the show since it's supposed to be historical celebration.
The Rover Group/MG-Rover era always has a heavy presence at PoL, which is inevitable given the sheer weight of numbers of these cars and their ever-increasing enthusiast following. This is good to see as it shows there is still life in the BL-fandom scene even if it is very different to the traditional 'classic' movement. I much prefer my R3 Rover 200s to be in stock form rather than in Trophy Yellow with chrome-effect plastic, an over-sculpted front splitter, some mesh and a bangin' stereo pumpin' out the choons but this is how car enthusiasm starts [/patronising]. One day these owners will be carefully restoring Rover 25s because they remember that ratty old 1.4SLi they had when they were 19.
And that's the 'point' of PoL. It shows that, really, the BL scene is as varied as any other. It's not just a group of old guys with excessive ear hair sitting around on garden chairs reminiscing about the Austin 3-Litre. There's that sort of element to it but there's an enjoyable sense of humour to a lot of it as well. It's not about being in denial about Longbridge and its past, but enjoying the products in the here and now.
P.S.- For a third time in a row I've been to a BL-related show and the area with all the Metros was notable for smelling of weed. I'm worried. Is this the only way to cope with the ownership experience in the long term?